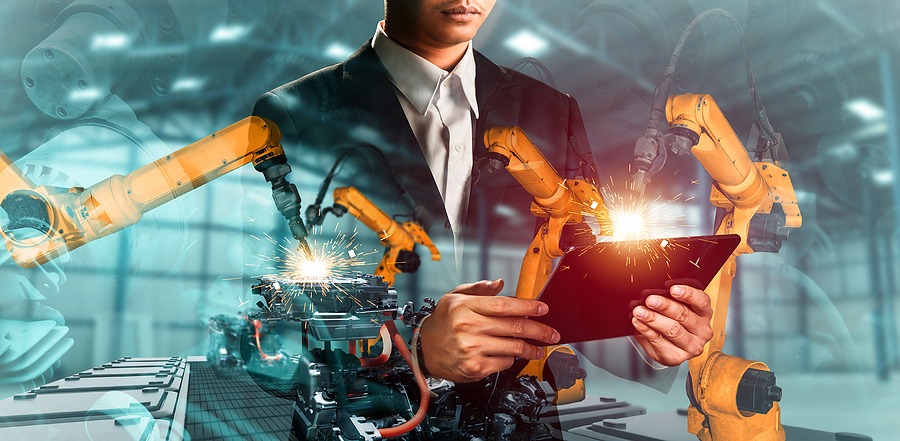 Sometimes, the manufacturing work you do changes from day to day, and you need automation that can roll with those changes. Flexible manufacturing is one of automation's biggest strengths. Discover the benefits of automation and robotic equipment when it comes to quickly adapting to change.
Understanding the Ins and Outs of Automation
Factory automation is a form of manufacturing or production where automation and robotics are incorporated into the different processes. With automation, every step is handled with precision, which makes for a better product, increased output, and heightened safety. 
You can also use this technology to quickly adapt to changing demands. Consumers can be fickle, and what's hot one minute may not be as in demand the next. You might have thousands of products ready to go and learn there's one small tweak that would make the item even better. Adapting to changing demands is one of the biggest benefits of factory automation, but many companies worry about whether it's worth it.
Explore these key benefits of an automated factory.
Productivity increases.

Your costs go down.

Consumers or clients are happier.

Workplace accidents are less frequent.

Revenues go up.
There are a few concerns that often keep plants from switching to robotic machines and automation technology. They are:
Workers will lose their jobs.

Training programs take time and can be costly.

The cost of equipment is substantial.
There are some valid concerns, and worker displacement usually tops the list. What's important to realize is that you don't have to lay off your dedicated employees. You can involve them in the transition and help them learn new, valuable skill sets in technology. Use the money you save on utility bills and the increased revenues and invest in your workforce. Automation is a great choice in any industry, including:
Apparel

Automotive

Food and Beverage

Home Decor

Packaging/Shipping

Pharmaceuticals

Plastics Extrusion
Have you ever toured a brewery or bottling plant? It's a good way to understand the benefits of adapting to changing demands. You have a bottling line that is responsible for filling 12-ounce bottles with the beer that's ready for bottling. Some of that beer will go into 12-ounce or 16-ounce cans, too. Automated machines that adapt to changes eliminate a lot of the hassle this process used to take. 
Another good example of the importance of adapting to change within a plant is something like an Amazon warehouse. As orders are pulled, they all need different box sizes. You can't just have a machine that's loading orders into one standard box. 
An order with a pair of shoes isn't going to fit into a box that's designed for pill bottles. And, it would waste cardboard to put a pair of sunglasses into a box designed to fit laundry baskets. You need machinery that adapts to the change with as little human interference as possible.
Examples Where Automation Enabled Quick Adaptation to Changing Demands
That's what automation can do. Here are some examples of companies that have embraced robotics and automation and improved their production or processing rates.
Full House
Full House manufactures equipment that takes a slab of wood and turns it into a pre-hanging door that meets a customer's needs. But, there was a problem with the machines having to be reprogrammed each time the door features or size changed. If the reprogramming glitched, which was more common than people wanted, it had to be debugged and reprogrammed to get it to work. It was a waste of time.
With the help of Mitsubishi Electrics, they upgraded it to be user-friendly and quickly adapt to changing demands. The time needed to build the custom machines was drastically reduced, ensuring the machines were in clients' hands as much as 75% faster.
Hamrick Packaging Systems
Hamrick Manufacturing specializes in filling orders for a variety of protein powders, but each powder has a very specific label that is easily damaged. They needed automated equipment that could not only identify the right package and powder, but it also needed to be able to do this without damaging the label. The goal was to get an automated packaging system that could pick and pack over 20 different SKUs with accuracy and care while adapting quickly to the changing formulas. 
With the help of Mitsubishi Electric's automation expertise, they ended up with equipment that can pick and pack more than 40 bottles a minute without error as the different orders change frequently.
Hella
Hella provides lighting and electronic equipment in the automotive industry. Years ago, the company embraced the use of robots, but the robotic arms would hit each other if the code controlling them wasn't exact. As there were different locations, it took a lot of time to program each change.
Modern automation and robotics make it easy to use drag, pinch, and zoom to quickly program a robot's pick point. And, the robotic equipment remembers past pick points so it will recall where it needs to be without having to reprogram them.
New York City and RecycleOS
A recycling facility in New York City added two robots to sort the recycling streams coming into the facility. Human workers can only sort the plastics, glass, paper, metal, and cardboard recyclables at a set speed, and they can tire out and make mistakes.
Robotic equipment can identify and process recyclables much faster with a 90% success rate, which means more recyclables are processed every day. As the shape and size of the different materials come down the conveyor, the robots adapt to the changing demand. Some weeks have more recyclables than others, but it doesn't matter to the robotic equipment.
World Wide Fittings
Family-owned World Wide Fittings needed to stay competitive with foreign companies that produce hydraulic fittings. An automated CNC lathe with robotic loading and unloading allowed the company to keep a focus on the high-quality customers expect. But, it works at speeds that help them stay competitive as they produce a variety of fittings, changing what was being produced following the programming. 
Workers that were doing the CNC lathe work were promoted to other jobs where the demand for skilled workers was high. The company was able to use automation to meet changing orders without losing valued employees.
Do You Want to Learn More?
Factory automation is the wave of the future that can save your company money, maintain quality, heighten safety, and give your workers exciting new technology to learn. Factory robotics and automation do not replace human workers, instead, they give them the chance to grow their skillset. It also makes it easy to roll with the changes.
Mitsubishi Electric excels in factory automation for the automotive industry, manufacturing, food production, and every other field imaginable. If you're ready to grow your business and become a leader in your industry, talk to our industrial automation experts to find out how we can help you.
Work with Us and Succeed
We love our customers and the challenges they bring to us. We also like to let our customers shine by discussing how we worked together to solve their biggest challenges. If you have a challenge that needs to be solved and would like to be our next BIG success story, reach out to us and let's connect!