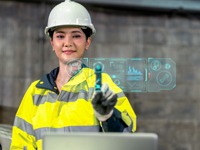 Embrace Smart Automation Now
Whether you are a supplier, a manufacturer or a distributor, your world is changing at an unprecedented pace. Blame it on the pandemic, climate change, political turmoil, or digital disruption. The result? Today's factories, warehouses and distribution centers are:
Too slow
Too risky
Too inflexible
Consider the following.
The vast majority (80%) of distribution centers are manually operated. (Peerless Research Group)
Almost 68% of supply chain professionals still rely on Excel spreadsheets for their operations. (BCI)
Supply chains are largely using legacy Fieldbus networks, which do not have the bandwidth, top-to-bottom connectivity, real-time data transfer and deterministic (time-sensitive) capability required for modern, data-driven supply chains. (Automation World)
Industry analyst Gartner says, "In a business world that is volatile, uncertain, complex and ambiguous, an agile supply chain can improve an organization's ability to limit the downside while capturing upside potential." In other words, re-engineering supply chains for today's demands prepares you for tomorrow's opportunities.
Experts and industry leaders recommend making your processes more:
Automated
Data-driven
Transparent
Connected
Intelligent
---
Automate to accelerate.
Endemic labor shortages and rising labor costs are creating issues for every part of the supply chain – from raw materials to supply, manufacturing and distribution. Virtually every organization is being tasked to do more with fewer workers. And to do it faster, better and more affordably.
When one of the largest nut producers in the US decided to automate their outbound quality control sorting lines, they turned to industrial robotics. Robots now handle in one pass what used to take two or three passes with manual sorters. Each sorting line has two robots. Each robot replaces four or more workers, which is especially helpful during seasonal spikes.
The automation project has delivered twice the throughput in half the passes.
Gigabit performance down to the field device level propels performance plantwide for a leading automotive manufacturer.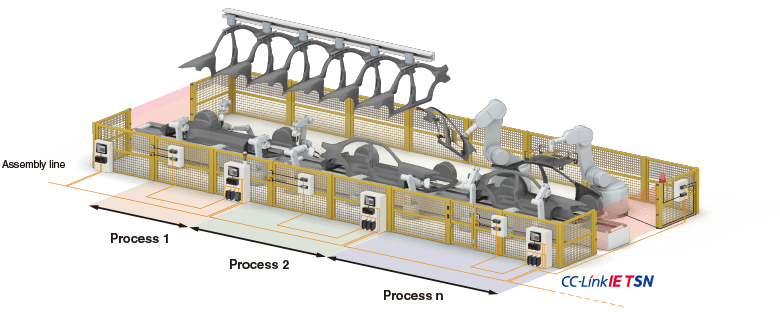 When a global automotive manufacturer built their new paint shop, they wanted plant-wide performance improvements. So they decided the entire shop would run on a next-generation control platform. The PLC controls everything: the conveyor, paint mixer, robotic painter, ovens and feather duster roller. They also deployed high-speed HMIs, VFDs and a time-sensitive, gigabit industrial Ethernet network, which is extended all the way down to the field device level.
New vehicles come off the production line every 60 seconds.
The servo that drives this 17-axis robot puts motion control logic within the drive itself, changeover times are significantly faster.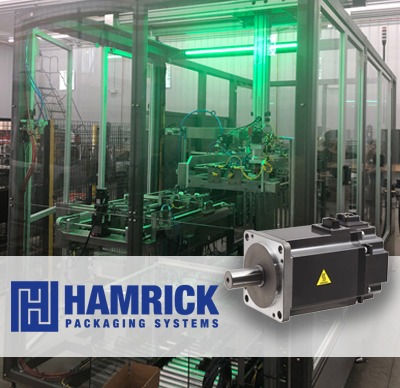 When Hamrick Manufacturing designed a 17-axis mechanical assembly for an automated pick-and-pack machine, they started with the servo motor. They needed a motor that was smart, small, powerful, fast, and precise. It also had to be easy to program, because the machine had to accommodate up to 20 SKUs with complex changeovers. When performed manually, changeovers could take up to half an hour each time. Because the intelligent servo that drives the machine puts motion control logic within the drive itself, changeover time is dramatically reduced.
Changeovers in 40 seconds instead of 30 minutes.
To save time and money, look for servo and motion solution bundles that are IoT-ready.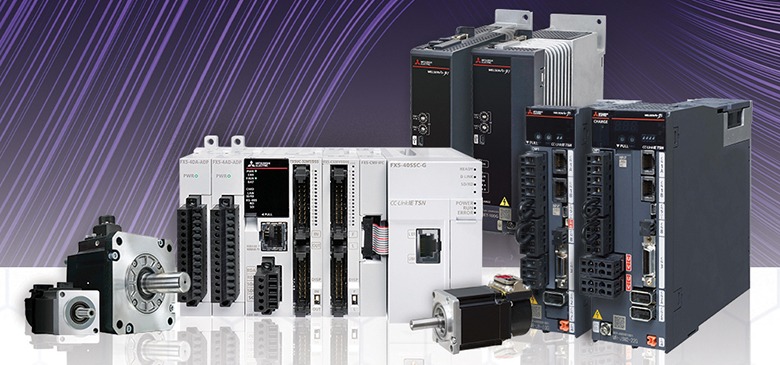 Pre-configured solution bundles take care of the technology integration for you. Pre-configured templates make programming and setup easy for:
Faster commissioning
Fewer components
More uptime
It's a more straightforward and affordable way to develop or deploy systems that require precisely controlled automation.
---
Become a data-driven organization.
Transitioning to Industry 4.0 is all about leveraging data to enable intelligent production that is more transparent, more agile, and more available. To create a data-driven supply chain, you have to start with smart hardware and deploy smart software.
Next-gen SCADA hardware and software improve visibility and control of a vast network of water treatment facilities.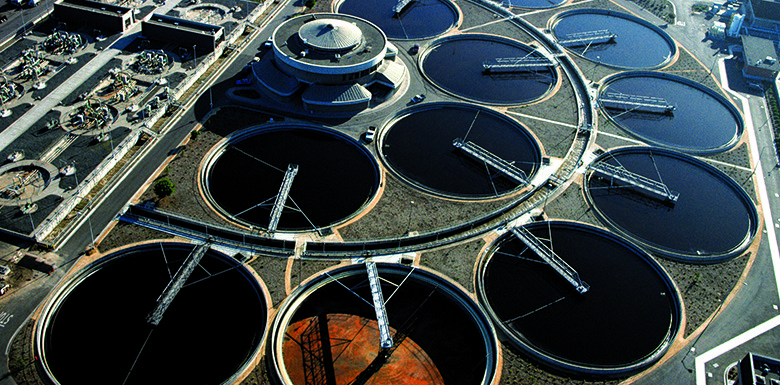 When a public wastewater treatment facility in Wisconsin replaced their 30-year old SCADA system with next-generation SCADA hardware, cutting-edge SCADA software and an industrial communications network, they got tremendous value including:
Remote water management that frees operators to manage operations from anywhere and on any device
Centralized water treatment that eliminates process silos and integrates information across operations for more efficient and effective data-driven management
Digitized leak detection for dramatically reduced waste
Preemptive incident management for a vast network of facilities
The biggest value derived from this hardware and software upgrade?
The water treatment utility has near-instant visibility into all of its equipment.
Real-time equipment status is a key capability for improving OEE and realizing a quick return on investment.

When software company SCYTEC wanted to accelerate their customers' journey to smart manufacturing, a small yet mighty IMA Adapter helped them do it. The adapter fast-tracks Implementation of their DataXchange software by simplifying CNC interfacing, transforming previously time and resource intensive setups.
The adapter can:
Access more data points
Provide better and more data
Enable real-time equipment status for more effective machine monitoring
Manufacturers who deploy this solution can increase shop floor utilization by up to 30%, thanks to the quality of the data and the reliable performance of the adapter.
In 10-15 minutes – with no machine downtime – data can be pulled from CNC machines.
Real-time visualization of the production line identifies issues, where they are occurring and how to address them.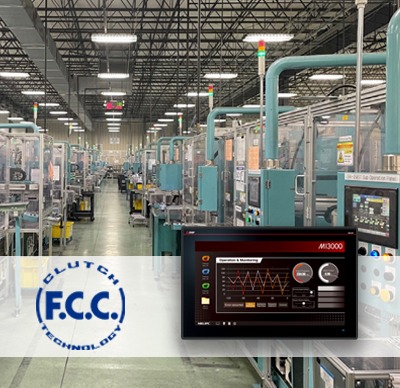 When automotive supplier FCC (Adams) wanted to simplify visualization on the production line, improve reporting and increase cost efficiency, they replaced pen-and-paper processes with a data collection system. The system enables real-time data access, so product managers can see where production line issues are and quickly address them. It used to take at least two people to gather the line data and compile it into a report. Now just one person manages the entire process and still has time to focus on other tasks.
Automatic visualization of data in real-time means managers are empowered to do more with less.
Top-to-bottom connectivity is required for smart, data-driven supply chains.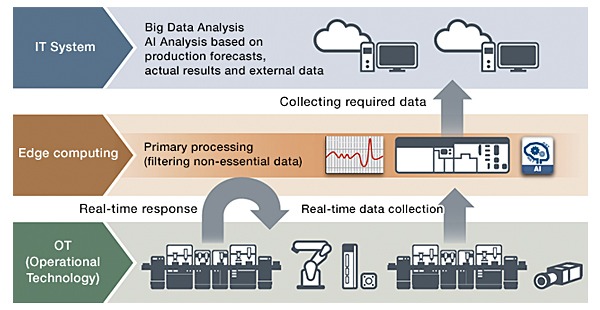 Drive deterministic gigabit performance from the device level.
Smart, data-driven supply chains require top-to-bottom connectivity and high-speed data communications. This can only be achieved with an interoperable, high-bandwidth and time-sensitive network. A network that:
Enables OT/IT convergence for advanced data sharing between operation and information technology systems
Delivers real-time intelligence through machine-to-machine and machine-to-human data collection, communication, and analysis at the edge and in the cloud
Prioritizes network traffic to avoid even the smallest amount of latency in highly automated environments
CC-Link IE TSN is the first and only open industrial network that combines openness and gigabit bandwidth with deterministic networking.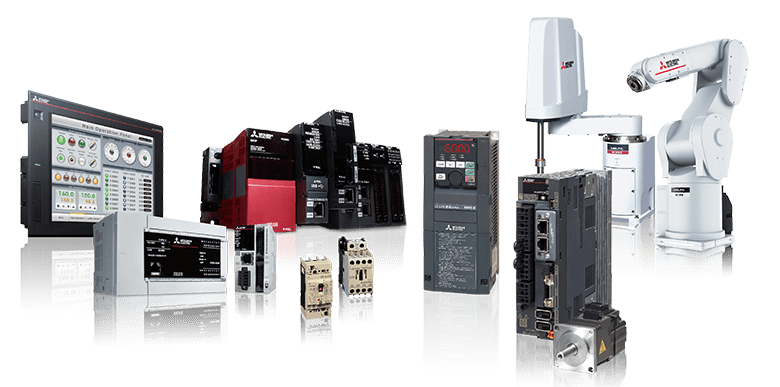 Any organization that is re-engineering any part of its supply chain should deploy CC-Link IE TSN and look for CC-Link IE TSN-compatible automation technology, including:
Work with a company that works with you.
Navigating the challenges of modern manufacturing while maximizing the opportunities of digital transformation is possible…if you work with the right automation technology and the right company.
Before specifying any core automation technology, make sure it is engineered to be backwards compatible, so you don't have to rip and replace automation equipment every time a new generation of controllers, drives or motors are introduced. Look for leading performance that is market-ready when released, so you don't have to wait a year to benefit from innovation. Ask for proof of product quality. Finally, there's nothing worse than feeling like you are second rate when parts or maintenance are needed. So insist on a relationship that works for you.
Automation Solutions Ingredients
Learn more about the Mitsubishi Electric Automation products mentioned in this article and how they can help you achieve digital transformation as we move forward in a manufacturing industry that changes – but remains navigable.
Work with Us and Succeed
We love our customers and the challenges they bring to us. We also like to let our customers shine by discussing how we worked together to solve their biggest challenges. If you have a challenge that needs to be solved and would like to be our next BIG success story, reach out to us and let's connect!