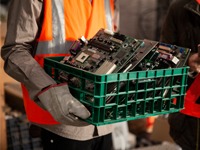 Industrial electronic waste is a real problem. Here's why we need to make serious changes.
As today's enterprises continue in their digital transformation journeys, many adopt state-of-the-art technologies and equipment designed to keep them agile and efficient. Smart machines embedded with sensors, processors, and networking tools are revolutionizing every industry, from manufacturing and transportation to retail and packaging.
Advanced electronics are helping organizations save time and money and serve customers better than ever before – but the incredible business gains come at a cost. One of the most serious unintended consequences of digital transformation is the skyrocketing volume of electronic and electrical waste, or e-waste.
E-waste includes computers, monitors, televisions, and smartphones, as well as electronic industrial machinery and equipment, all types of batteries, antennas, microchips, and even products like solar panels. These electronics contain hazardous materials, such as lead, mercury, cadmium, and arsenic, that need to be recycled or disposed of properly.
The problem is, we're not doing a very good job disposing of those materials.
A report from the Waste Electrical and Electronic Equipment (WEEE) Forum, released last October, estimated that individuals and businesses worldwide would improperly discard over 63 million tons of e-waste – most of that simply going into landfills – by the end of 2021. That volume of waste weighs more than the Great Wall of China, the world's heaviest human construction.
The same report warned that if e-waste discarding behavior doesn't change, we'll be throwing out over 81 million U.S. tons by 2030, which represents a yearly increase of three to four percent.
The WEEE Forum estimates that, worldwide, we currently properly recycle just over 17 percent of e-waste.
Impacting the Planet's Future
E-waste dumped in landfills negatively affects the environment. The WEEE Forum reported that every ton of e-waste releases two tons of carbon dioxide into the atmosphere.
In addition to increasing greenhouse gasses, e-waste affects the environment in three other ways:
Air contamination – as e-waste components and materials get broken apart or melted in landfills, they can release excess dust particles that increase air pollution.
Soil contamination – toxic materials, such as heavy metals and chemicals, can seep into landfill soil.
Water contamination – toxins in the soil can leak into groundwater and become acidified.
Improperly discarded e-waste doesn't only affect the environment. As the air, soil, and water become polluted, people inevitably feel the impact. Contamination intensifies existing health conditions, such as respiratory difficulties, allergies, and auto-immune diseases.
Industry Trends Make a Tough Challenge Tougher
The great increase in the use of electronics and electrical equipment is due largely to the growing desire for devices and machinery that can improve our lives and business operations. But some technology suppliers have adopted certain business practices that are making the challenge of e-waste significantly more difficult.
Planned obsolescence
Some manufacturers develop devices with short lifespans so customers will buy upgrades more often. They do this by using cheaper components they know won't last as long as costlier, more quality parts.
Prevention of repair
Part of planned obsolescence is the strategy of making equipment and devices very difficult or impossible to repair. For instance, some manufacturers don't allow third-party repair on their devices, which causes many users to simply replace broken equipment instead of navigating the challenges of manufacturer repair.
Both planned obsolescence and prevention of repair cause an increase in e-waste disposal – and all the negative implications that come with it – because equipment and machinery don't last as long and can't be repaired when malfunctioning.
How Mitsubishi Electric Can Help
At Mitsubishi Electric Automation, Inc., we are committed to providing customers with equipment and machinery they can rely on for a long time. Our products and solutions help reduce e-waste in three important ways.
1) Quality: Our equipment is built to last
The quality of Mitsubishi Electric products is well-known. Some Mitsubishi Electric CNC machines have been in the field since the 90s. We regularly service legacy machinery to keep it running optimally for as long as customers need it. By providing products of such high quality and no artificially planned obsolescence, we can ensure that our equipment will last. This reduces the need to replace equipment, and ultimately reduces e-waste.
2) Performance: Future-proofing for tomorrow's needs
Mitsubishi Electric products are designed to the highest technical specifications, which helps ensure that customers won't need to replace them the next year as technology advances.
We also design some of our products in ways that help eliminate waste-causing components altogether. For instance, the new MELSERVO-J5 servo motor design eliminates the need for a backup battery. Previous generations of the motor required a battery that typically had to be replaced every six months. Thanks to our long-lasting products, that's a significant number of batteries that now won't eventually become e-waste.
3) Compatibility: Conversion kits cut down on waste
With industry-leading backwards compatibility, Mitsubishi Electric helps reduce e-waste with conversion kits. If a legacy product cannot be replaced or repaired, a conversion kit allows customers to replace a single failed component with a newer model, backwards-compatible component. If a component in a servo system fails, for instance, you wouldn't need to replace the entire system. This cuts down significantly on e-waste.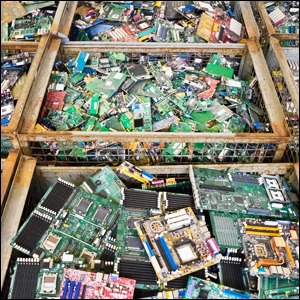 The quality, performance, and compatibility of Mitsubishi Electric products and solutions help ensure that your equipment will stay reliable and in good working order for a long time – ultimately reducing your e-waste challenges. We continue to research and develop products to serve your needs better, while staying conscientious of the environmental and human impact of our solutions.
Work with Us and Succeed
We love our customers and the challenges they bring to us. We also like to let our customers shine by discussing how we worked together to solve their biggest challenges. If you have a challenge that needs to be solved and would like to be our next BIG success story, reach out to us and let's connect!