Bulk Palletizing with Robotic Technology
Grupo Fortec was founded in 2002 in Apaxco, Mexico, as a manufacturer of stucco and tile adhesives. After a period of rapid growth, Grupo Fortec incorporated automated systems and robotics in their manufacturing, material handling and packaging areas.
The Challenge
The company was seeking to implement a palletizing system for 20 and 40 kg (approx. 44 and 88 lbs) bulk ceramic adhesive packages. In the past, the handling and packaging of this material was a manual process. However, Grupo Fortec was searching for a way to completely automate the process to improve productivity and keep its employees safer and healthier.
The Solution
A production line is comprised of two automatic packaging machines, a chain extraction belt system, a weighing solution (to ensure the correct weight of each bulk of product in real-time), bag positioners and roller conveyors. In addition to this, a robotic cell with an articulated arm and a load capacity of 70 kg (about 175 lbs) was added for handling the bulk products with an adjustable gripper that fits the dimensions of the 20 kg and 40 kg bags. On the control side, PLCs, HMIs, variable frequency drives (VFDs), and other necessary components were networked across this distributed discrete and analog system through CC-Link IE Field.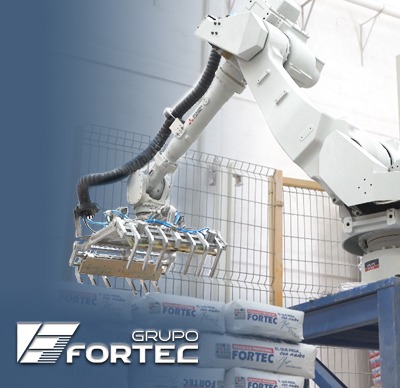 The Benefits
In collaboration with the Koatli Industrial Engineering, an authorized systems integrator, a robotic application was built according to the needs of Grupo Fortec's plant in Guanajuato, Mexico. The implemented solution allowed them to increase production by 30%, with savings reaching up to 20% of total operating costs. In addition to the ROI being well within the goals set by Grupo Fortec at the corporate level, the system has the capacity to increase production as demand increases. They currently produce 3,800 tons a month, however the plant has a capacity of 5,000 tons of production, a range they could easily reach with the newly configured installation.
The Future
This solution has brought them closer to Smart Factory and Industry 4.0 concepts, placing them in a strategic position to spearhead the industry in terms of automation and control technology. Thus setting the trend in this productive sector.
Grupo Case Study Video

Become Our Next Success Story
We love our customers and the challenges they bring to us. We also like to let our customers shine by discussing how we worked together to solve their biggest challenges. If you have a challenge that needs to be solved and would like to be our next BIG success story, reach out to us and let's connect!