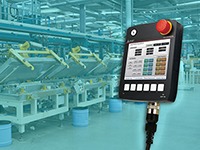 One of the things I enjoy about working in the office is having two PC monitors. I can work on a document on one monitor, and at the same time see reference data on the other monitor, increasing my productivity. It's much easier than trying to work at home on my laptop (and that's not even counting having to use the annoying trackpad if I'm not working at my desk).
In manufacturing, the same level of productivity may be difficult to achieve when the operator controls are in one location, and the operator needs to see physical changes in another part of the machine.  For example, an operator must be able to move around a robot and see it from various angles. That's why over 90% of industrial robots are programmed using a teach pendant.
For these types of applications where mobility is required, Mitsubishi Electric has released a handheld HMI, the GT25 Handy.
GT25 Handy is a handheld HMI for the GOT2000 platform, allowing an operator freedom of movement, and the ability to easily connect and disconnect between connection points or between machines to set up, adjust, or check operation.
It also includes a built-in emergency stop-and-enable switch for safety and secure operation, a quick release to connect to and remove from a machine, native PDF file support, and functions to set up, adjust, and monitor servo drives.
Consumer electronics are all about productivity and convenience. That's why so many people are walking around with what is essentially a computer not just in their pocket but also on their wrist, or why many homes have a robot vacuuming the carpet instead of people wasting time doing it themselves. Industrial gadgets are cut from the same cloth, and little innovations like these go a long way in increasing productivity and ease-of-use at work.
Lee Cheung is a Product Marketing Engineer for controllers and visualization at Mitsubishi Electric Automation. You can contact him with questions at [email protected].
Read more on the GT25 Handy here.
Work with Us and Succeed
We love our customers and the challenges they bring to us. We also like to let our customers shine by discussing how we worked together to solve their biggest challenges. If you have a challenge that needs to be solved and would like to be our next BIG success story, reach out to us and let's connect!