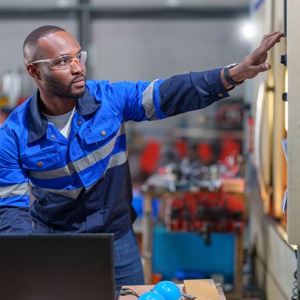 Almost anyone today can create a good part. Winning and keeping customers now requires the kind of operational excellence that's only possible with digital transformation. Keeping P.A.C.E. in the highly competitive CNC market requires:
Predictability
Adaptability
Connectability
Extendability
Investing in digital technology directly translates to operational excellence in the minds of prospects and customers. Digitally-enabled operations are smarter. Cycles are faster. Quality is better. Cost is lower. It's an investment that builds trust and confidence while enabling continuous process improvements.
The time to transform is now. Leaders are using digital technology to gain competitive advantage. Laggards are struggling to compete. Of course, digital transformation is a journey. And digital technology is evolving rapidly. In this article, we'll give you an overview of what's now, what's new, and what's next in digital technology for CNC machining.
Our M8 Series motion control platform is the world's fastest and most accurate CNC control, thanks to a CPU that's purpose-built for CNC machining.
Transforming CNC operations.
The central processing unit (CPU) in our M8 Series CNC Controllers was purpose-built for automating multi-axis CNC machining processes. The CPU increases accuracy while increasing speed. The controllers also integrate modern capabilities that improve operator efficiency. Standard features include:
WiFi connection
Touchscreens
3D simulations
Systems are also designed to accommodate cameras inside machines for part inspections and can even engrave barcodes directly onto parts for automated track and trace compliance. These controllers are transforming CNC operations.
"Mitsubishi Electric has really been a partner of ours since the beginning. They've been an important part of our growth and development."
– Brandon Bombardo, Director of Sales & Marketing, ShopSabre
One of our customers-ShopSabre-was the first to integrate an M8 Series Control in its IS-M Series CNC Router. This router is bringing speed and accuracy previously not found on a CNC Router. Customers count on ShopSabre's superior cutting quality, cutting forces, and overall machine accuracy. The state-of-the-art IS-M Series with Mitsubishi Electric's M8 Series CNC Controllers don't disappoint.
Simplifying machine-tending automation.
Machine tending robots can increase quality, accelerate production, and extend machine life. Our pre-engineered LoadMate Plus™ machine tending robotic cell greatly simplifies machine-tending automation. When integrated with the M8 Series CNC controller, no robot programming expertise is required thanks to Direct Robot Control technology. Once the robot is in production, customers can take advantage of CNC Total Services. These optional services deliver CNC cloud backup of machine parameters, ladders, and data as well as machine tuning. And as always, we support the CNC machine throughout its entire lifecycle.
Our CNC software enables operators to adjust CNC offsets and variables remotely.
Maximizing operator productivity.
CNC Offset Manager Software increases operator efficiency by enabling remote adjustments of offsets and variables. The software is installed on a Windows-based PC/Server and networked to M7 or M8 Series CNC controllers. When used with other CNC automation software, such as metrology, inspection, or robot cell management software, CNC Offset Manager and CNC Variable Manager create a bridge between the software and the controller that enables more fully automated processes. The software reduces safety risks to operators and improves production through quicker adjustments.
New AI-enabled engraving technology gets around the problem of spiraling chips and eliminates the need for high pressure coolant (HPC).
Tackling chip control.
Anyone who works with small automatic turning machines will tell you that chip control is a big problem. An innovative engraving system is now available for sliding and fixed head lathes. The system uses Vibration Cutting Control (VCC) technology, which breaks the chips into smaller pieces. A new AI-enabled electric discharge machine (EDM) Automatically adjusts chip ejection frequency during cutting. Citizen Machinery and Mitsubishi Materials jointly developed the system, which reduces machining cycles by up to 23% compared to processing without AI. The system also:
Improves quality on difficult-to-cut materials
Reduces heat generation and power consumption
Eliminates the need for high pressure coolant (HPC)
Increases overall productivity
Extends cutting tool life
These are just a few of the many ways the digital state-of-the-art in CNC machining is advancing.
NEW: Propelling productivity with real-time operational intelligence
Accessing and leveraging data is a must when coping with:
Persistent staffing shortages
Extreme weather events
Ongoing waves of coronavirus
Social upheaval
And more
If you're just getting started on your digital journey, Mitsubishi Electric provides several innovative and affordable options for monitoring, analyzing, connecting, and maintaining CNC machines. Here are just a few.
The Mitsubishi Electric IMA Adapter provides basic remote monitoring and analysis. Busy operators can view smart alerts from smartphones.
Making data accessible.
When software company SCYTEC wanted to accelerate their customers' journey to smart manufacturing, the small yet mighty Integrated Machine Analytics (IMA) Adapter helped them do it. The MTConnect(R) compliant adapter transforms time and resource-intensive setups by simplifying CNC interfacing. In just 10-15 minutes – with no machine downtime – real-time data can be pulled from CNC machines. Manufacturers who deploy this solution can increase shop floor utilization by up to 30%, thanks to the quality of the data and the reliable performance of the adapter. A new IMA Mobile app allows operators to monitor machines directly from their smartphones.
Large scale production environments can integrate manufacturing execution system (MES) databases with controllers for high-speed data capture across operations.
Connecting the shop floor to the top floor.
Interoperable data exchange between OT (operation technology) and IT (information technology) systems is delivered by the MES fieldbus interface from Mitsubishi Electric. It enables easy interconnectivity with different devices and enhanced visualization of on-site information. The interface ensures reliable data collection in large scale production environments and reduces system configuration costs by 65%. The interface also makes it possible to connect to Enterprise Resource Planning (ERP) systems.
Smart Condition Monitoring technology analyzes operational patterns and alerts maintenance personnel when conditions are outside the norm.
Delivering game-changing predictability.
Predictive maintenance is a game-changer. Predictive Maintenance tools like Mitsubishi Electric's Smart Condition Monitoring (SCM) technology provide an early warning of failing or deteriorating parts. It alerts maintenance personnel when conditions are outside the norm. Using this technology, maintenance teams can perform maintenance before an actual failure occurs.
ICONICS software delivers a panoramic, contextualized, real-time view of operations.
Getting data right.
If you're ready for more advanced data unification, contextualization, and visualization, you need ICONICS software. This PC-based SCADA software lets manufacturers utilize enterprise-wide data in real-time. It also mobilizes data, so production managers, machine operators, and maintenance technicians can manage production and equipment remotely. Advanced IoT and cloud integration mean critical data can be viewed from any device, anytime and anywhere. ICONICS helps you get the right data to the right people at the right time and in the right format.
Mitsubishi Electric and Japan's National Institute of Advanced Industrial Science and Technology (AIST) have developed AI technology that enables real-time equipment adjustments during high-speed machining.
Advancing AI.
Optimizing conditions in agile manufacturing environments requires frequent adjustments in speed and other parameters. ME and AIST have developed an AI technology that predicts changes during production and then makes real-time adjustments to factory automation equipment while it's running.
"Mitsubishi Electrics' new algorithm calculates the confidence level of inferences by learning the characteristics of each process and each target device, ensuring high reliability."
Drives & Controls says, "The AI technology can achieve high-level inference accuracy while simultaneously guiding FA equipment control." It's fast. It can adapt to constantly changing production factors. And it reliably performs equipment adjustments. Here are three ways this new AI technology will improve operations of factory automation equipment.
Automated error correction for CNC cutting machines.
The new AI technology enables correction during dynamic machining. Tests confirmed that machining accuracy can be improved by 51% compared to error correction that is not supported by AI. (Drives & Controls)
Reduced cycle times and more reliable robot operation.
The new AI algorithm has been used to estimate loads on robotic arms and calculate acceleration and deceleration speeds. Validation tests (with and without AI) confirmed AI-enabled robot cycles were reduced by 20% while achieving more stable robot operation. (Drives & Controls)
In-process learning for agile manufacturing.
The new technology allows the AI to learn work factors during operation and make real-time adjustments as needed. This makes it possible for manufacturers to continuously adapt to changing processing factors.
Driving productivity.
Other emerging AI offerings will make digital twin prototyping attainable to machining shops of every size and take predictive maintenance to an entirely new level, providing even greater insights into CNC machine operation. For example, new AI-based machine learning algorithms won't simply compare current performance with pre-established baselines. The algorithms will base decisions on real-time data as well as historical data to improve predictability and significantly drive productivity gains while extending asset life.
Work with a digital transformation leader.
No matter where you are on your digital journey, Mitsubishi Electric Automation has industry-leading solutions that can help you advance your digital capabilities. We can help you transform at a P.A.C.E. that works for you. And we'll keep innovating to ensure our customers have the competitive edge they need to succeed, both today and in the future.
Automation Solutions Ingredients
Learn more about the CNC software and solutions referenced in this article, and see how Mitsubishi Electric can help you keep P.A.C.E. in CNC machining.
Work with Us and Succeed
We love our customers and the challenges they bring to us. We also like to let our customers shine by discussing how we worked together to solve their biggest challenges. If you have a challenge that needs to be solved and would like to be our next BIG success story, reach out to us and let's connect!