Industrial Robot Solutions
Industrial Robot Solutions
Vertically-articulated
Articulated robots are the most frequently used robots today. These stand-alone, stationary robots typically have six-axes and can move in the X, Y and Z planes. They operate without direct contact with human workers and require the use of safety fences or other guarding.
We specialize in vertically-articulated robots for assembly, machine-tending and tray handling applications. Our vertically-articulated robots can handle payloads up to 70 kilograms, reach up to 2 meters and are available in a wide variety of configurations, especially in the 20 kilogram and under range.
Our vertically-articulated robots can be used for clean room applications and are ideal for logistics when combined with intelligent vision systems. What sets us apart? As the leader in high-accuracy applications, we don't just sell you a robot. When you purchase our robots, you also get our extensive experience and our commitment to help you solve the challenges of your unique application.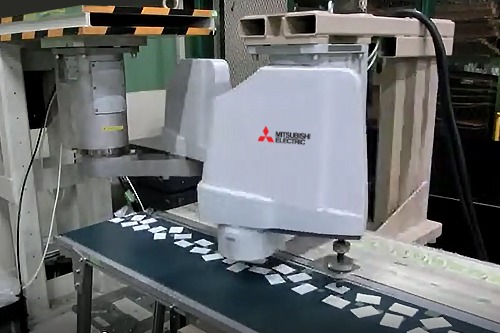 SCARA
Selective Compliance Articulated Robot Arms (aka SCARA robots) mimic the action of a human arm with an elbow, shoulder and wrist. They are very compact and used in horizontally-articulated, point-to-point applications such as pick-and-place, assembly and case packing.
Our SCARA robots can handle payloads up to 20 kilograms, with a reach of up to 1 meter. We specialize in the 3 and 6 kilogram payload categories, with standard and inverted mount options that flexibly handle a wide range of applications.
What sets us apart is our wide range of offerings, which allows us to better scale the solution to your specific application. That means that you're not paying for more than you need. It also means you're not using more space than necessary.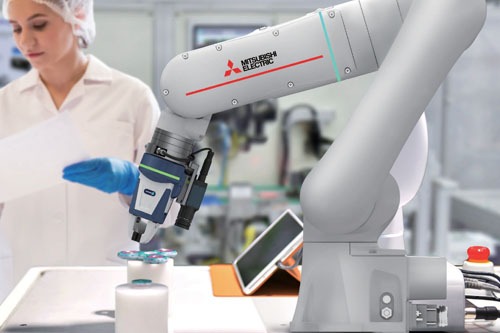 Collaborative Robot (Cobot)
Cobots can be quickly deployed and effectively used to work safely alongside humans — in most cases, without the need for safety fences. Installation, commissioning and training is easier with our cobots, which are ideal for lower-speed machine tending, pick-and-place and assembly applications. Because our cobots are rugged and durable, they are also used for applications where space is limited or where strength and precision are required.
All three of our industrial robot offerings — vertically- articulated, SCARA and cobots — use the same programming language, the same Teach Pendant and the software is backward compatible. That means our customers don't have to upgrade their software every time they buy a new robot. Every robot is compatible with earlier generations of our robot family. We also have a best-in-class, three-year warranty.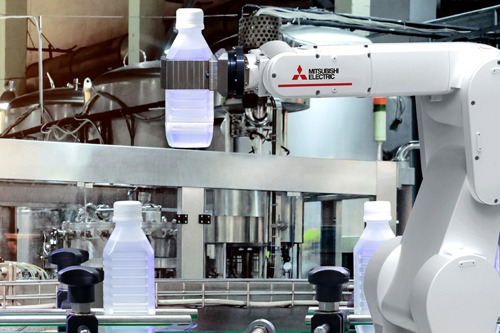 LoadMate Food-grade
Mitsubishi Electric offers a range of standard robots with H1 food-grade grease as well as specially-protected robots with a chemical-resistant, protective coating that can withstand cleaning processes. These industry-leading industrial robots can be used in most food-handling applications.
Our food-grade SCARA robots cover the entire spectrum of prices and applications including 6, 12 and 20 kilogram options for wet food applications. We also offer food-grade, vertically-articulated robots for a wide range of payloads and reaches. Finally, we offer a cobot with H1 food-grade grease and zone control for bakery applications. It has an IP54 rating.
If you are looking for high-performance and exceptional engineering support for your automated food-handling application, learn more about our food-grade robots.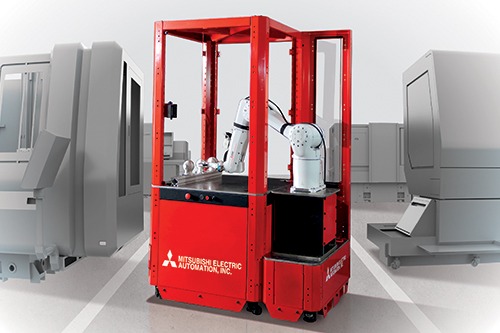 LoadMate PlusTM
Have you been delaying use of industrial robots because you don't have the in-house expertise or the time to take on a new automation project? Our plug-and-play robotic cell can get you up and running in as little as a day.
LoadMate Plus is ideal for job shops and larger scale production environments who wish to automate any low-to-high volume application. It can be easily integrated into your environment. No configuration. No customization. No systems integrator. Mitsubishi Electric handles everything for you.
LoadMate Plus arrives as a fully-assembled cell that's ready to go. Simply wheel it over to your machine, mount it on the machine or to the floor and connect it to your CNC controller. If your machine has a Mitsubishi Electric M8 CNC controller, it has Direct Robot Control (DRC) for quick Ethernet connection. Other CNC models can be connected via standard I/O. Then, start using it. When the job is done, you can move LoadMate Plus to another machine. It doesn't have to be tied to one job or one machine.
LoadMate Plus is currently available for machine-tending applications. Additional applications will follow soon.
Get In Touch
If you're ready to see how Mitsubishi Electric can help you implement industrial robots in your factory, plant or warehouse, let's connect.
Build Your Application
Getting the right solution to your problem is challenging. Our Robotics Team at Mitsubishi Electric has the experience, tools, and resources to help you to get the right solution.