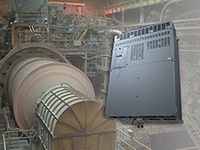 I generally don't complain too much about my daily commute. For being in the Chicago area, it's not too bad. I generally leave before traffic really has a chance to ramp up, and I'm typically leaving the office before rush hour hits full force. But this morning was different.
Traffic got an earlier start for whatever reason. It was still dark, but all I could see on the highway were brake lights. It looked like I was leaving a Sunday Night Football game at Soldier Field, not driving into work on a Wednesday morning. As if that wasn't bad enough, all of a sudden I started hearing this annoying "ding" sound coming from the front of my car, and it was shortly followed by an overheat warning light that popped up on my dashboard.
I got off the highway at the next exit, and safely made it to the nearest gas station. I ran into the convenience store, and when I came out, I had a large bottle of water in one hand and a gallon of antifreeze in the other. I popped the hood, fanned away all of the steam, flipped open the radiator cap, and begin pouring the water/antifreeze elixir generously into the radiator fill tank. A few minutes later, I restarted the car. My radiator began pumping coolant around, cooling the engine and making my car safe to drive again.
I'm sure I'm not alone in my experience. However, it did get me thinking about how similar the process is for one of our products. Like your car's engine, Variable Frequency Drives are cramped into tight spaces, they're often overworked, and it can be difficult to regulate their temperature, and keep them running efficiently at the same time. That is why Mitsubishi Electric released the FR-A800-LC liquid-cooled inverter series.
Built on the standard FR-A800 Series inverter platform, the FR-A800-LC Series VFD includes a liquid-cooled heatsink designed for use with your preferred or existing liquid cooling system. In addition to all of the embedded functionality, network connectivity, and machine safety that the FR-A800 Series is known for, the FR-A800-LC Series inverter is also equipped with a selectable EMC filter that can be turned on and off, as well as an integrated common mode DC reactor/choke, eliminating the need for add-on accessories and additional control panel wiring.
The FR-A800-LC Series is the perfect choice for above or below ground mining and other heavy industry applications when air-cooling is difficult, extremely expensive or when the overall control system space is at a premium.
With superior drive performance suited to virtually any situation and a broad range of functions to cover everything from startup to maintenance, this inverter is capable of creating value on a completely new level. Overall, the industries and applications are unlimited when realizing all of the benefits of using liquid-cooled inverters.
Chris Rhodes is a Product Marketing Engineer for drives and low voltage switchgear at Mitsubishi Electric Automation. You can contact Chris with questions at [email protected].
Learn more about the FR-A800-LC inverter here.
Work with Us and Succeed
We love our customers and the challenges they bring to us. We also like to let our customers shine by discussing how we worked together to solve their biggest challenges. If you have a challenge that needs to be solved and would like to be our next BIG success story, reach out to us and let's connect!