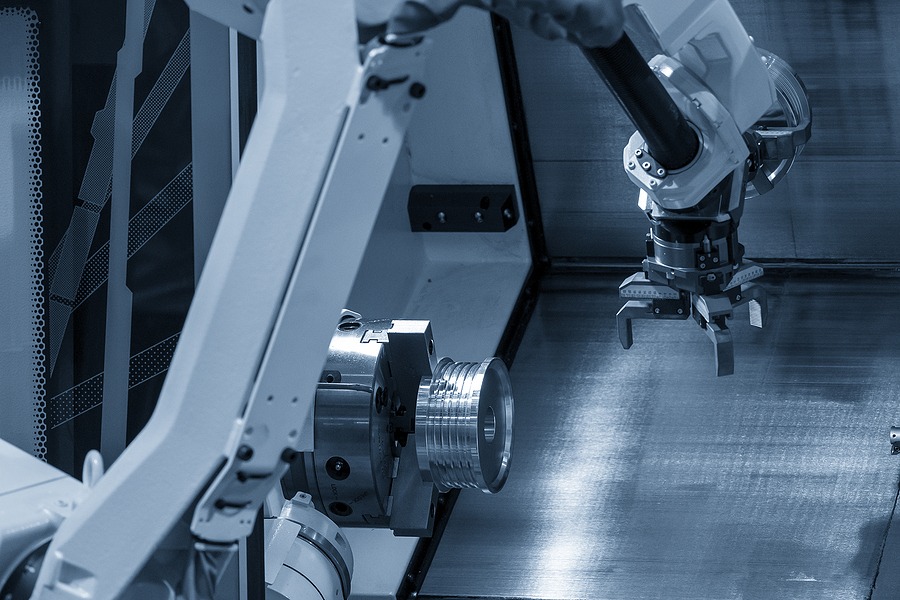 Is your business looking for an effective way to increase long-term savings without sacrificing output or quality? Material handling automation is key. What is material handling automation?
Start by understanding what material handling automation does. It's a selection of automated equipment like conveyors, cranes, and hoists that help move materials through production, packaging, and ready for shipping.
Take a Closer Look at the Types of Automation
Material handling automation includes:
Automatic guided vehicles: AGVs, like forklifts/trucks, move around on their own without needing an employee's involvement. These robotic vehicles can rely on inertia, lasers, or wire guides.

Automatic storage and retrieval: A robotic system that sorts, retrieves, and stores items in a warehouse or factory. Pick and place equipment is part of this as they choose products and then move them from one location to another for the next stage of production or manufacturing.

Conveyors: Conveyor belts are placed horizontally, at a slight angle, or vertically. Robots can place items on the conveyors to move them to the next stage.

Cranes and hoists: These can lift and lower items from one area to the next. Think of the frame of the engine of a new car that must be lowered and secured to the car's frame.

Lifts: Automated lifts that are used for lowering, raising, and positioning materials or employees.

Machine vision systems: Machines that perform visual inspections are an important part of the quality control process. They can measure and scan things like wiring that are coated with plastic insulation to ensure the wire remains perfectly centered.

Pallet stackers: Pallet stackers are used to stack or retrieve pallets from a dispenser or feeder.

Pallet transfer systems: Pallet transfer systems move pallets from one area to another and stack.

Palletizers: These automated machines place materials on a pallet to prepare for tasks like storing or wrapping and shipping.

Parts feeders: Parts feeders are automated or robotic machines that place a component into the proper orientation for the next process in manufacturing or assembling.
What Are the Benefits of Material Handling Automation?
Those are the components that go into a material handling automation system. What are the benefits of each?
Better Quality Control
Automation heightens quality control. When robotic equipment is used, it's designed for exact measurements and precision. If someone is measuring a piece of wood using a tape measure, it's a good idea to measure twice, but even then, there's room for error. Robotic equipment measures accurately and correctly in seconds. This leads to all items being exact with no errors made.
Decreased Scrap
Going back to heightened quality control, when items are packaged or assembled with precision, there's less scrap. Instead of having to throw away pallets full of items that were assembled incorrectly or off-size and useless, everything is manufactured or produced correctly the first time. There's less scrap to be trashed or recycled.
High Accuracy
It's human nature to make mistakes. No one is perfect. You can be tired and make the tiniest mistake that leads to an entire production run being scrapped. Material handling automation is accurate. Computer programming tells automated equipment what to do and laser sights and other forms of technology ensure that the equipment stays on track.
Improved Safety
Automation and robotics also improve safety. Does your company have an OSHA sign saying "X Number of Days Since Our Last Workplace Accident?" Make sure that number stays very high with the precision that automation and robotics provide. 
Work-related injuries and deaths are cut by as much as 50% in some industries. The safety of your employees should be a driving factor. They're not having to lift items that are too heavy for them to manage on their own.
Increased Efficiency
It's estimated that automating just 64% of the world's manufacturing processes could reduce working hours around the globe by 749 billion hours. Automation increased productivity by as much as 50%. It's especially noticeable in high-volume, routine tasks. 
Material handling automation is perfect for high-volume, low-skill tasks. You could put your dedicated workers into higher-paying positions, which helps you and gives them the chance to learn new technical and computer skills that are invaluable in today's workplace.
Workplace automation also makes it easier for some employees to work from home. Instead of finding temporary workers if an employee is unable to get to work due to inclement weather or road closures, they could log in and do their job from home.
Reduced Labor Costs
While people worry about robotics, AI, and automation taking jobs from people. It's estimated that 68% of U.S. workers are overworked and have too much to do in one day. Business automation can help ease the amount of overtime workers are forced to do. 
By making it possible for workers to have a work-life balance again, labor costs go down, and happiness increases. Two out of five workers fear that automation will lead to job loss, but the truth is companies need workers to learn how to program and inspect automation to ensure things are running smoothly. These are valuable skills that workers can learn as they shift to new roles with higher pay.
Three out of four workers are interested in learning new skills and being trained in automation. Don't worry about upsetting your employees. They may well be eager to support you in automation and robotics and learn new things in new roles within your company.
Slashed Expenses Boost Long-Term Savings
Grand View Research reported that industrial automation can reduce production costs in the oil and gas industry by as much as 20%. Any company will experience a decline in spending for several reasons. Employee overtime is just part of it.
Machines work around the clock and don't need the heat or lights on in order to work. They'll work in the dark, when it's cold in the plant, or in heat and humidity. They don't need a lunch break, bathroom break, or time off for vacation. Newer equipment is also more efficient than in the past, so you'll save money on your electricity bills, too. This leads to long-term savings.
Mitsubishi Electric Is Happy to Answer Your Questions
With all of these gains, your customers are happier. Your customer service team is able to quickly answer questions and address concerns. Plus, you're doing your part to help the environment. Best of all, the amount you save in the long run is amazing. It's a win-win situation.
Your company should invest in material handling automation, but it can be challenging to get started. It doesn't have to be. Learn more about material handling automation by talking to the experts at Mitsubishi Electric.
Our team specializes in machine learning, anti-sway technology, and Industry 4.0 integration. We're here to address your needs, answer questions, and help you implement cost-saving material handling automation. Talk to sales and support to get in touch with a local Mitsubishi Electric distributor.
Work with Us and Succeed
We love our customers and the challenges they bring to us. We also like to let our customers shine by discussing how we worked together to solve their biggest challenges. If you have a challenge that needs to be solved and would like to be our next BIG success story, reach out to us and let's connect!