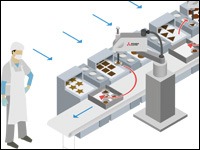 Robots Are Re-Revolutionizing the Packaging Industry
As industry pressures mount, robotics are enabling survival – and success
Robots aren't new to the packaging industry – they've been used in some form or another for decades. Today, however, the industry is facing unprecedented challenges that are driving the need for new kinds of automation and more advanced robotic capabilities.
To compete in the modern marketplace, packaging companies need greater agility. They need to be able to switch efficiently from one packaging setup to another without much downtime or manual effort. They also need flexibility to support the growing trend of high-mix, low volume (HMLV) packaging – such as producing variety packs of food products – which is becoming more popular as organizations seek ways to differentiate themselves from competitors and make their products unique.
The industry is also facing challenges when it comes to human labor. Many packaging operations have long been dependent on a human workforce, even though much of the work can be repetitive and tedious. The COVID-19 pandemic only exacerbated the issue when factories and warehouses had to shut down completely. Though many packaging companies are back in production, many are dealing with workforce shortages, increased salary demands, and forced physical distancing requirements that have them looking for innovative solutions.
Advanced robotics technology rises to the occasion
For a long time, packaging robots couldn't offer the agility and flexibility companies need now. Nothing could match human employees in their ability to pivot quickly from one highly specific task to another. Robots were also extremely expensive and required specialized knowledge and skills to program and operate them.
Today's industrial robotic solutions for packaging are changing all of that. Prices are dropping, robots are more flexible in their range of capabilities, and their interfaces and controls are more intuitive than ever. Where robots used to work in isolation, today they are able to be completely integrated into an organization's automation system, which means a single control interface can be used for all of those operations.
Thanks to these advances, packaging companies can use robots in areas where they weren't being used before, such as in HMLV operations as well as co-packing, order fulfillment, or end-of-line packaging.
Addressing common objections
Even though advanced robotics technology can help packaging companies overcome their latest challenges, some organizations aren't convinced. They're concerned about the up-front cost and the lack of skills needed to reconfigure or repair the robots if something goes wrong.
The cost concern is understandable if you simply compare hourly wages for several workers over a batch of shifts with the initial purchase cost of a robotic solution, including installation and maintenance. But much of the value of a robot can't be quantified so easily. Once programmed, robots can greatly increase productivity and safety. They are highly accurate and consistent, and can work around the clock without breaks. They can also help human workers avoid hazardous environments or physically demanding tasks.
When it comes to the skill set needed to configure robots for specialized tasks, solution providers have simplified that a lot. Many of today's robots are designed to be operated by laypeople who don't have robotics expertise. Interfaces are less complex and don't require a programming background. Some providers also offer continuing technical support and assistance, as well, to ensure your robots are performing the operations you need.
How Mitsubishi Electric can help
We have extensive experience in developing industrial robotics solutions that keep your packaging operations agile and competitive. What differentiates our solutions is our concurrent legacy in automation. Our robots aren't an isolated solution, they're part of a larger ecosystem that includes powerful and productive automation components, including PLCs, variable frequency drives, servos and motors, SCADA, and CNC control systems.
Our robots are highly flexible, and we are committed to fitting the right robots to the right applications and needs, whether you need collaborative robots to operate in tandem with human workers or versatile industrial robots that deliver high speed and throughput. Many are coupled with intelligent options like 3D vision, force sensing, and seamless PLC integration to meet even the most demanding packaging applications.
We make it easy to configure robot capabilities so you can pivot quickly in response to ever-evolving market demands. Unlike some robots that are hardwired to perform one or two specific actions, such as case packing or palletizing, ours come with ultra-customizable front ends so they can do exactly what you need them to do. You get the tools you need to make your robots as flexible as possible, from the software, reporting, and machine interfaces. So we can provide fully customized robots and automation – at scale.
With a robotics solution from Mitsubishi Electric, you aren't forced to be in the robotics business. We provide the training and tools you need if you prefer to configure each unit, but we also offer comprehensive programming and configuration services if you simply wish to focus on other core business needs.
Automation Solutions Ingredients
Learn more about how Mitsubishi Electric can help you use robots and automation to keep your packaging operations competitive and successful.
Work with Us and Succeed
We love our customers and the challenges they bring to us. We also like to let our customers shine by discussing how we worked together to solve their biggest challenges. If you have a challenge that needs to be solved and would like to be our next BIG success story, reach out to us and let's connect!