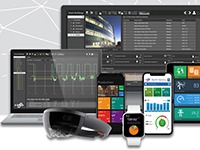 Moving SCADA Technologies Forward
Mitsubishi Electric and ICONICS take digital transformation to the next level.
If the lockdowns and isolation of the COVID world taught us anything, it's that technology has utterly reshaped the way we can live and work. Video teleconferencing, once the domain of high-powered IT departments, has become so easy and commonplace that five year olds are linking up to live stream birthday greetings for their grandparents.
This level of connectivity heralds a nearly complete digital transformation of both private and professional communities. Businesses that resist this transformation risk being left quickly behind. Those that embrace it, such as Mitsubishi Electric, are poised to push that transformation even deeper into the workplace and manufacturing processes.
In 2019, Mitsubishi Electric officially acquired a controlling interest in ICONICS, Inc. The past two years have been spent consolidating the brand. Today, ICONICS offers deeply integrated SCADA-based visualization, analysis and auto-discovery into advanced factory automation technologies.
ICONICS offers vendor-neutral SCADA/HMI technologies through Mitsubishi Electric that deliver tighter integration and seamless connectivity.

In early 2021, three technology experts from Mitsubishi Electric sat down together (via teleconference, of course) to discuss the first product release from the combined companies: the new ICONICS Suite 10.97. In this article, we'll hear about the features and benefits of this ground-floor update from Global Director of Industry Standards Tom Burke, Senior Product Manager Rob Ruber and Product Manager Aga Zupancic.
A Comprehensive, Unified Suite
Redesigned from the ground up to leverage the latest coding and connectivity technologies, the ICONICS Suite 10.97 replaces MC Work64. It allows plant operators, management executives, and IT professionals to better integrate real-time manufacturing, energy consumption and actionable business information into a secure, unified, Web-enabled visualization dashboard.
Tom Burke opens the conversation with a note of excitement about the merger. "Everyone benefits," he says. "We'll pull ICONICS into new markets, while ICONICS pulls us into a lot of markets that we may not have been as strong in before. The ICONICS Suite now is part of the Mitsubishi portfolio, and that allows us to do a lot more things for our customers."
For end users, Burke says the suite is a "feature rich and impressive software system that has a little bit of everything. It makes things like IoT, the edge, the cloud, and fog computing easier to get into and easier to manage. In partnering with ICONICS, we've worked together to create a flexible solution that brings a lot of different technologies together into one, fully-integrated system."
The new ICONICS Suite includes a wide range of updated software solutions, including:
Deeper and easier SCADA/HMI-based integration through GENESIS64, with plug-and-play connectivity and a new Hyper Alarms Server.
Predictive analysis for proactive asset management with Hyper Historian, which now supports the export of data into Amazon Simple Storage Service and Azure Data Lake Gen2.
Automatic data analysis with user-defined rules across the AnalytiX Suite, turning raw data into timely, useful information through an easy-to-use query interface.
Updated developer tools with IoT WorX that aid in building and managing advanced IoT gateways and IoT edge products.
Seamless Connectivity All Around
Burke says that the primary benefits of the latest version of GENESIS64 include tighter integration and more seamless connectivity between SCADA software and any SCADA-enabled devices within a manufacturing facility or a larger network.
"The new GENESIS64 gives users the ability to get SCADA data from all their devices. You can do things like predictive maintenance more easily. You can do condition based monitoring. You've had SCADA/HMI devices in your plant for a long period of time, but now you can do even more with them, more easily than ever."
The process of connecting to Microsoft AZURE for cloud computing is much easier, as well. "It was always somewhat difficult to connect to AZURE, Burke explains. "Hyper Historian makes it seamless. You can take your PLCs and directly connect them up to the cloud. We've brought IoT convergence to reality for both Mitsubishi Electric and ICONICS customers."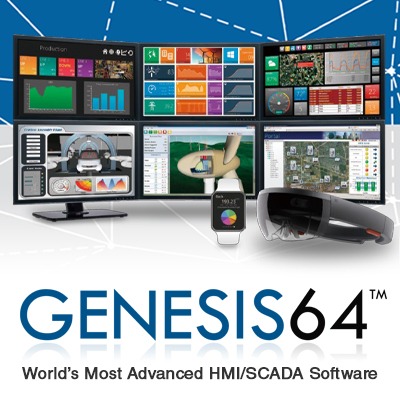 Deep Integration, Vendor Neutrality
Now that ICONICS is a full partner, Rob Ruber adds, "we can work more closely together to ensure tighter integration to our hardware. The latest GENESIS64 includes something called FA Connector, which enables you to automatically discover PLCs on your network. It's just easier."
SCADA used to require a lot of configuration, Ruber says. "You had to specify each of the different devices that you wanted your PLCs to access. FA Connector immediately discovers and connects up to all your devices, and you don't have to configure each device. There is also an Ethernet/IP connector. It allows you to integrate easily with an existing customer's Ethernet/IP architecture. No additional conductivity software as OPC Servers are required."
Tom Burke continues, "With these features, plugging a device in is kind of like plugging in a USB. It just auto discovers. That can save you hours of configuration time."
Better still, Burke is quick to point out, hardware from Mitsubishi Electric is not required. End users can enable the suite on virtually any hardware system they may already have in place.
"GENESIS64 offers complete vendor neutrality," he says. "The ICONICS SCADA platform has always been one of the few that wasn't tied to a specific brand of hardware. We've retained that neutrality, so the new suite offers convenient, solution-based architecture, no matter what hardware system you're using. It can talk to Rockwell. It can talk to Siemens. It can talk to Beckhoff. That cross-platform connectivity remains an integral part of GENESIS64."
A Suite of Suites
Among the three other software components that make up the suite, Aga Zupancic says, the updated AnalytiX suite deserves a detailed look.
"AnalytiX is a very important part of the larger platform. It gathers large amounts of real-time data from manufacturing facilities' equipment and turns it into genuinely useful information. Its job is to deliver actionable intelligence that helps customers drive improvements in productivity, efficiency and quality."
The AnalytiX suite itself includes three key functionalities.
"The first one focuses on energy consumption visualization, "Zupancic explains. "It helps users see where their energy expenses are accruing, which can help them spot potential cost-saving opportunities.
"The second evaluates all current and past data to detect existing or potential faults. In order to do so, it collaborates with Hyper Historian which collects the data. It evaluates all this data, defines the best course of action, and informs the facility's equipment operators if something falls outside of the normal operation plan.
"The third one enables machine operators, quality assurance personnel, manufacturing engineers, and facility management to view all the Statistical Process Control quality data and production parameters that can impact the product quality."
Zupancic adds, "The entire AnalytiX Suite is tied in with Hyper Historian. Everything is collaborating to deliver excellent visualization for production and maintenance. It all works together to form a powerful, proactive maintenance management and quality control system."
"The new ICONICS Suite transforms the machines on the production floor into profit centers. Users are able to really understand how much profit they gain from each connected machine."
– Aga Zupancic, Mitsubishi Electric
Mixed Reality And More
Beyond the essential software functions, the new ICONICS Suite offers a range of additional capabilities. One is a mixed-reality user interface. Rob Ruber describes the hardware as an eyepiece that attaches to a headband or hard hat. It's not completely immersive," he explains. "Instead, it provides you with icon 'scouters' to guide you to the information and functions you need." It's easy to use and it doesn't cut the user off from their immediate surroundings.
Another unique and powerful feature is "secure by default" functionality. "The suite gives a very secure experience right from the beginning," Tom Burke says. "All of the security credentials built right into the system at install. As you move between different applications, you don't have to do any custom security configuration. You decide who can access what components in the system, and those access credentials propagate through the whole system. Again, that can save hours and hours of configuration."
Burke notes, too, that the Hyper Alarms work in much the same way. "So, if I want to configure alarms on some part of my process, maybe a high-limit and a low-limit alarm, the system configures the defaults for you. Once you've set up an alarm for one part of the system, you can use that as a template and clone it across the rest of the system. It's a simple copy-and-paste process."
Of course, not everyone needs the full feature set and capabilities of the entire suite. For users who need only some of the features, or who are on a tight budget, there is also a modular, stripped-down version available called GENESIS64 Basic SCADA.
Aga Zupancic describes Basic SCADA as "a customizable, entry-level package. Think of it as a build-to-order system. You can start with basic functionality, and as you need more you add modules. You can tailor a system to meet the specific needs of your operation."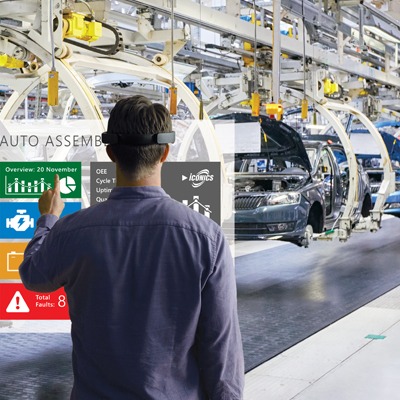 Adding Value To The Manufacturing Process
At the end of the day, the number-one goal of the new ICONICS Suite from Mitsubishi Electric is to add value to customer operations.
"It transforms the machines on the production floor into profit centers," Zupancic says. "Users are able to really understand how much profit they gain from each connected machine. It provides a valuable connection between IT and OT, right on the production floor."
She adds that it also eliminates travel time for engineering teams. "With the remote access, you really don't have to have the engineer on the floor to service your system. Analysis can happen remotely. The engineer can then make informed recommendations. The suite's real-time data collection ties in with that mobility, offering the ability to easily visualize vital production and quality data."
Tom Burke sums up the suite's capabilities by going back to its ability to transform raw digital data into highly useful information. He says, "Everybody wants to gather the data, but that's not enough anymore. You need to be able to take that data, analyze it, and use it intelligently."
In the end, Rob Ruber says, "The new ICONICS Suite is opening up exciting opportunities for more seamless integration, better cross-platform connectivity, and an even more user-friendly HMI. Those things are important because the drive for productivity never stops. Downtime is always expensive. Anything that we can do to address an issue on our time, not the machine's time, is a win for us and an even bigger win for our customers."
The latest ICONICS Suite is driving SCADA-based connectivity and capabilities to new heights. What's next? Tom Burke doesn't even dare to speculate. "Well, I'm dating myself again," he admits, "but who would have ever thought that we could be remotely working together from our homes over a real-time video link. Twenty years ago, that was science fiction stuff. Technology keeps changing, giving us better and better capabilities. Who knows where the future is headed, but the possibilities are wide open."
Customers and partners are invited to give version 10.97 a test run to experience these new features for themselves.
Request a free trial today.
Automation Solutions Ingredients
Learn more about advanced SCADA-based visualization and analysis from Mitsubishi Electric and ICONICS.
Work with Us and Succeed
We love our customers and the challenges they bring to us. We also like to let our customers shine by discussing how we worked together to solve their biggest challenges. If you have a challenge that needs to be solved and would like to be our next BIG success story, reach out to us and let's connect!