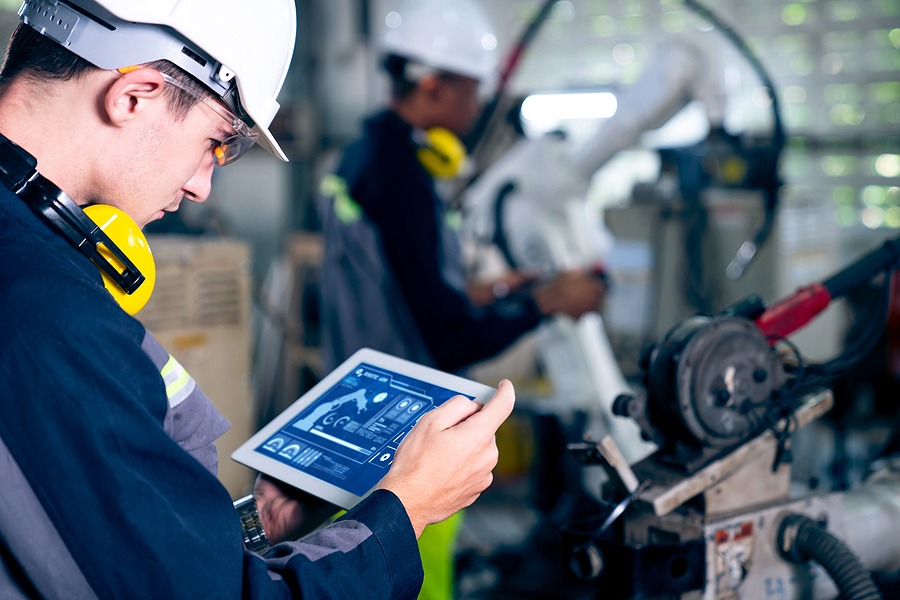 Currently, more than half of industrial robots are used in the automotive industry, yet there are so many other sectors that could benefit from industrial automation. It's estimated that automation can increase a plant's productivity by as much as 30% and cut work-related injuries and deaths by half. 
How does factory automation help a company boost productivity and heighten safety? Robots are programmed for precision. They don't make unpredictable moves like a human worker might. A robot isn't going to get little sleep and work at a slower pace than usual. Robots don't need time to eat and drink or become ill and need to go home. 
Automation is also friendly to the environment. You slash your reliance on electricity and heating costs as robots don't need to have the lights on and the heat cranked up in order to run effectively. They pull less energy from the grid.
Did you know that an average of three out of five manufacturing tasks can be automated? Automation is in many companies' best interests to implement automation. To do this successfully, it helps to consider the potential challenges and have a plan of action in place to prevent them.
The Challenges Companies Experience With Automation & Tips for Overcoming Them
What are you going to face when it comes to challenges? While every situation is unique, there are four main challenges with automation. Take a closer look at them and our tips for overcoming them.
Expensive Start-Up and Upgrade Costs
Automation and robotic equipment aren't cheap. The price has been dropping in recent years, and it's expected they'll be around 55% less by 2025. It's still expensive, but it's becoming more affordable to automate your factory. You may also find grants and low-interest business loans to help you make your plant more energy efficient, productive, and safer.
How do you overcome the cost of automating your plant? You might find it's less expensive to lease equipment. If it's an option, you'll be able to replace equipment every few years or so, which ensures you always have the latest technology. But, you never build equity which isn't ideal.
For this reason, take slow steps and slowly switch your older equipment to automated ones. If you have a machine that is constantly breaking down and needs to be replaced, it's a good time to replace that with a more efficient robotic option.
Finally, look at the different state and federal government incentives. If you save on your automation upgrades, it improves your return on investment. You spend less, save more, and end up happy with your upgrade.
Need for Training and Hiring of Tech-Savvy Workers
Automation and robotics do require expertise with the different computer programs and setups. You're going to need tech-savvy workers. You can avoid having to hire new workers. Instead, offer in-depth training to your existing workers. They'll be happy they're not being replaced, and you get to keep the people you trust in your workforce.
When you choose a factory automation specialist to help you design and implement robots, you can ask them what training they offer. Many will work with your current employees to help them understand their new roles.
Frustration From Existing Employees
As you upgrade to robotics, your existing employees may be frustrated and even fearful that they're being replaced. Your best workers might quit, leaving you missing skilled workers. 
If you have unhappy employees, they're going to drag down employee morale. Don't let that happen. If your employees know they have a role within the company with free training, they'll be engaged and excited to see how the changes work out.
Concerns Over Safe Implementation and Security
When you're replacing factory machines, there's going to be a lot of commotion. If you cannot shut the entire plant down for the day and only have the installers onsite, make sure you've implemented safety protocols for your staff to follow. They need to stay out of the way as much as possible.
You also need safety protocols in place. If something goes wrong with a machine, such as an electrical fire, you need to have a plan of action. Once you've established rules regarding emergencies and safety procedures, train your employees.
Security is the other issue. There are so many scams, breaches, ransomware, and hacks now that smart machines can be a target. The software and servers have to be secure. Working with an expert and having a strong IT team is essential to your equipment's security.
Our Best Advice For Automating Your Plant
The very best advice we can give is to find a partner in automation and work with them. Before you choose a partner that specializes in automation solutions, ask these questions to narrow down the best partner for your smart manufacturing goals.
Do you have the time and expertise to meet my company's goals and needs?
Before choosing an automation partner, you need to make sure the company can do the work in the time frame you need. If the upgrades are going to go well past your deadlines and your productivity and output are impacted, it's going to be a problem.
Make sure that the company has the expertise you need. If this is the first time the company has automated a soda canning line, they may not be the right match for your needs. You'd want a company that has helped improve productivity and safety at a soda plant.
Are you focused on the lowest cost and my budget?
As you implement robotics and automation in your plant, you're going to have a budget that you need to stick to. If an expert in factory automation cannot do what you need at or below the budget you've set, it's not a good match.
The automation partner should be honest if your budget isn't realistic, but they shouldn't try to push you into a budget that isn't feasible. If automation is going to push you into high levels of debt without being certain your return on investment is worth it, you need to find a partner that pays better attention to your financial goals and potential ROI.
Where can I see more about your expertise and the projects you've worked on?
Mitsubishi Electric has videos on factory automation, white papers, case studies, and other informative guides for you to browse. Learn more about the work we've done and our expertise in all areas of factory and manufacturing automation and robotics. 
Once you've decided to take the next step, give Mitsubishi Electric's automation experts a call or reach us online. We're happy to answer your questions about factory automation and discuss the next steps. Our engineers and sales team can work out the best path forward within your budget and that maximizes your ROI.
Work with Us and Succeed
We love our customers and the challenges they bring to us. We also like to let our customers shine by discussing how we worked together to solve their biggest challenges. If you have a challenge that needs to be solved and would like to be our next BIG success story, reach out to us and let's connect!