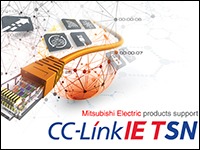 Why time-sensitive networking (TSN) is a big deal
TSN has been in the news a lot lately. You can understand why if you've had to deal with all the different communication standards that co-exist in today's automation systems. The fact that some of the largest automation technology suppliers have worked together to develop this open standard is testament to its importance.
TSN enables vertical communication from field devices to upper level systems.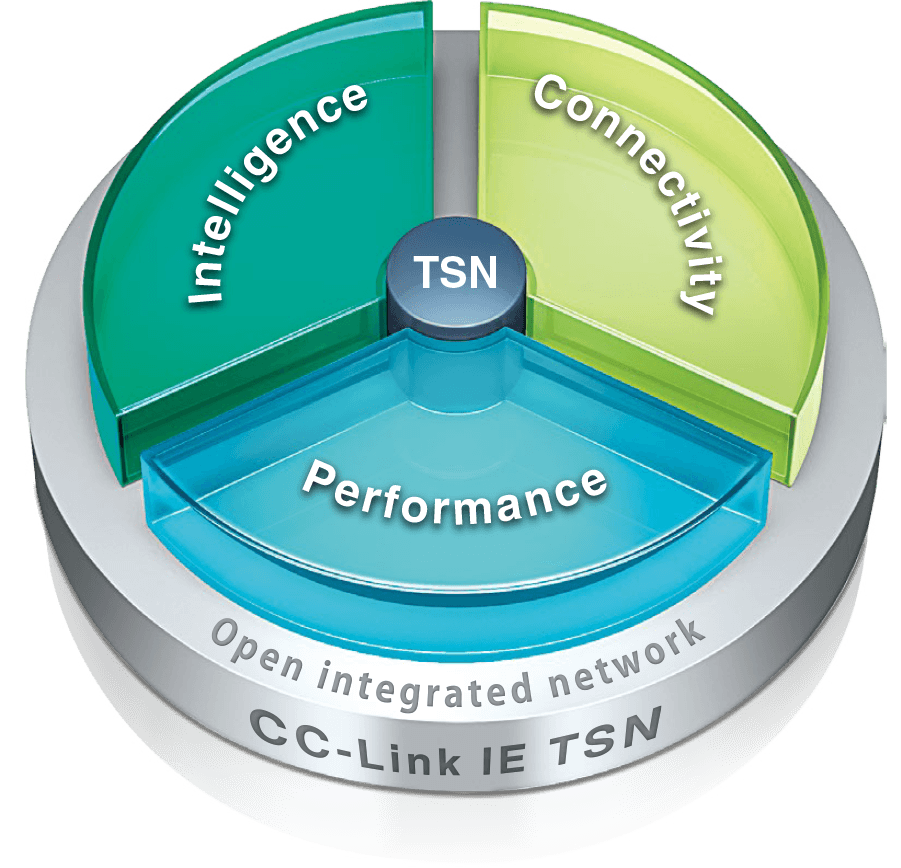 What it is (and isn't.)
TSN is not a protocol. It's a set of IEEE standards that are managed by the IEEE 802.1 working group. TSN is a complete, real-time, deterministic communication system that handles three key network functions:
Time Synchronization, so all devices have a common view of time
Scheduling, so different classes of traffic can exist on the same network and users can prioritize time-critical traffic
Traffic shaping, so remaining traffic can be shaped and network bandwidth can be reserved to achieve fault tolerance
TSN makes it possible to integrate the machine control and information communication required for next-generation smart factories to be realized on one network.
Why you should care.
There are 5 big reasons you should care about TSN.
GREATER CONVERGENCE
TSN merges different types of data traffic onto one network. Lower-level operational technology (OT) and higher-level information technology (IT) can reside on the same cable. The convergence of IT and OT makes it possible to support non-urgent data (e.g. diagnostic and statistical data) and time-critical operational data (e.g. motion control and safety commands) on the same network — without compromising quality of service (QoS). Support for data sharing between OT and IT is essential for the Industrial Internet of Things (IIoT) aka Industry 4.0.
DETERMINISTIC NETWORK PERFORMANCE
TSN makes it possible to classify data streams and tag them with deterministic delivery through the network. This determinism makes it possible to slow down the transfer of less important traffic without negatively impacting performance of mission-critical applications. Deterministic network performance will allow for high-speed, high-precision synchronization that improves both productivity and quality across the plant.

According to SmartIndustry, "Recent studies have shown that TSN could outperform TCP and other solutions maintaining extremely low latencies on highly-congested networks. More precisely, it could maintain a 2ms latency on a trunk link connecting two switches characterized by a 95% capacity (or congestion) even when transmitting frames with high payload sizes of 200 bytes."
INDUSTRY-SUPPORTED CO-EXISTENCE
The importance of open and interoperable solutions cannot be overstated. Personal computing, networking and the Internet all flourished when open standards were embraced. There is wide and growing support for TSN among suppliers and technology organizations. The OPC United Architecture (UA) over TSN takes real-time communications, data exchange and scheduling down to the device level. It will also enable multi-vendor interoperability all the way from the sensor to the cloud; another key capability for the Industrial Internet of Things (IIoT).
MACHINE-TO-MACHINE & MACHINE-TO-HUMAN INTELLIGENCE
The OPC UA machine-to-machine communication protocol for industrial automation significantly streamlines data collection and control. It also provides semantic information, which is human readable and machine interpretable. This ability to add context and meaning to data is one of the biggest benefits of IIoT.
EASIER DEPLOYMENT & MAINTENANCE
TSN greatly simplifies the network itself. The ability to use a single network to carry out a full range of tasks:

Reduces engineering time
Decreases installation costs
Enables auto-configuration of devices and
Boosts cycle time

Reducing integration costs while still achieving best-in-breed performance is appealing to:

Automation technology providers
Machine builders
Systems integrators and
Industrial machinery users
How it works.
This description by CLPA-Americas describes the deterministic functionality of TSN quite well. They say:
TSN prioritizes signals and dedicates a lane and portion of the cycle time for prioritized messages
During a blockout time preceding the reserved cycle time, messages that threaten the prioritized messages' timing are prevented from entering the TSN switch
CC-Link IE TSN also divides messages to ensure reliability
Set timeframes for set motion signals dramatically reduce latency (jitter time) and make the system predictable and deterministic
How you get it.
A recent article in Process and Control Today says that, "A network technology that helps businesses get closer to the future 'holy grail' of industrial communications is CC-Link IE TSN. This is the first open industrial Ethernet available on the market to combine gigabit bandwidth with Time-Sensitive Networking."
CC-Link IE TSN was developed by the CC-Link Partners Association (CLPA). CC-Link IE TSN offers a path to the future while also handling the needs of today. It's evolutionary and revolutionary.
CC-Link IE TSN delivers control, motion and safety data streams on one "pipe."
With CC-Link IE TSN, a single, unified network architecture supports:
Critical and non-urgent traffic flows
TCP and IP traffic
Both 1 gigabit and 100 megabit field devices
TSN lets engineers use general-purpose Ethernet for increasingly fast and sophisticated control and automation. Having such an efficient network enables all the different components to communicate with each other more effectively and also supports efficient edge computing.
CC-Link IE TSN enables vendor interoperability using standard, converged Ethernet. Integration mechanisms and architectures for smart edge-cloud control systems are directly connected into the network. This connectivity enables customers, suppliers and vendors to access data from these systems and leverage preventative maintenance and optimization routines.
Because it's a software-based network, engineers can put slower legacy devices on TSN today and migrate to higher-speed devices whenever they want. This backward compatibility and forward migration path is a hallmark of open, standards-based technologies.
What functions CC-Link IE TSN supports.
According to the CC-Link Partner Association, "CC-Link IE TSN supports motion, sequence control and safety functions and their related hardware offerings — including those for traditional I/O and safety, servo motion, CNC and process functions. TSN even supports the challenging application of machine vision."
CC-Link IE TSN-compatible products now include:
How TSN improves motion applications.
CLPA-Americas Global Strategic Advisor, Tom Burke says, "For motion applications, the biggest concern isn't network speed. It's jitter. CC-Link IE TSN dramatically reduces jitter."
Servo drives can be directly controlled in the same network, along with the other automation components. That means you can integrate motion controllers without compromising on performance and you can synchronize axes in real time for improved productivity and quality.
Why smart factories need CC-Link IE TSN.
Motion Control Tips, A Design World Resource says, "Smart factories need to gather production information in real time; process it via edge computing; and transmit it onward to IT systems. Leveraging production-site data in this way necessitates a stable high-speed network such as CC-Link IE TSN."
Typically, automation systems in manufacturing operations have been deployed using non-standard network infrastructure. This has made it very difficult to access data. Many manufacturers still download data from individual devices onto thumb drives. This inefficiency has created a technical barrier to IIoT, which is based on the ability to consume data anywhere throughout the infrastructure.
Deloitte and the Manufacturer's Alliance for Productivity and Innovation (MAPI) say, "Smart manufacturing initiatives can increase productivity, throughput and factory capacity by approximately 10%. This is possible by having machinery and equipment that can improve industrial processes through automation, communication and self-optimization."
Because CC-Link IE TSN supports data sharing between IT and OT, it delivers on the promise of IIoT.
CC-Link IE TSN delivers control, motion and safety data streams on one "pipe."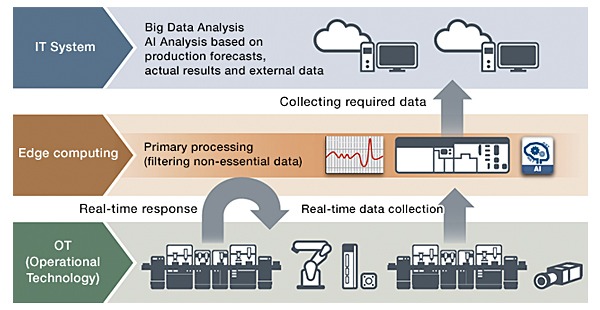 When it's available.
TSN-based technology for CC-Link IE TSN networks is available now. Migrating to this technology takes you further down the path of the intelligent factory by combining the benefits of an open Ethernet framework with gigabit bandwidth plus the added capabilities of TSN. Click here to learn more about TSN-based technology for CC-Link IE TSN networks.
Work with Us and Succeed
We love our customers and the challenges they bring to us. We also like to let our customers shine by discussing how we worked together to solve their biggest challenges. If you have a challenge that needs to be solved and would like to be our next BIG success story, reach out to us and let's connect!