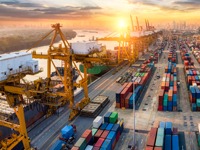 Are Your Crane Operations Stuck in the Past?
Stay competitive in an evolving landscape by embracing Industry 4.0 technologies
About a decade ago, the world recognized a new Industrial Revolution. It was the fourth of its kind since the very first Industrial Revolution in the 18th century, which introduced mechanized manufacturing processes. Today, Industry 4.0 is equally critical to businesses as machine power was to manufacturers long ago. The new shift is dramatically improving our ability to make products and get them into the hands of customers.
Industry 4.0 is all about the digital transformation of manufacturing and production processes. It leverages technologies such as automation, artificial intelligence (AI), Internet of Things (IoT) and the Industrial Internet of Things (IIoT), cloud and edge computing, and big data. With those technologies, manufacturers can create "smart" factories and warehouses, where equipment and systems are connected and communicating. Industry 4.0 is enabling levels of customization and automation – as well as efficiency and productivity – that weren't even possible before.
Experts across the world are in agreement that those who aren't able to adopt the new technologies risk being left behind. Industry consultants Deloitte say that "it would be folly to underestimate the crucial role the flow of information plays in the physical aspects of advanced manufacturing."
The global pandemic has only fast-tracked the push to digital transformation for many manufacturers. A report by McKinsey showed that Industry 4.0 helped 94 percent of respondents to keep operations running during the crisis, and 56 percent said these technologies had been critical to their crisis responses. Unfortunately, the "companies that had not implemented Industry 4.0 prior to COVID-19 have had a wake-up call. … Not only did they find themselves struggling during COVID-19, but also the absence of past experience, lagging underlying IT/ OT technology stacks, and COVID-19-driven cash constraints are making it difficult for them to catch up."
Companies that embrace Industry 4.0 technologies – such as networked systems, IoT, cloud technology, data analytics, human-machine interaction, and AI – set themselves up for great rewards. A McKinsey article stated: "The benefits these companies have recorded include 30 to 50 percent reductions of machine downtime, 15 to 30 percent improvements in labor productivity, 10 to 30 percent increases in throughput, and 10 to 20 percent decreases in the cost of quality."
These benefits have a significant impact across the entire value chain and provide operational gains that are difficult to measure but equally important – better flexibility to meet customer demand, faster time to market, and improved integration within the supply chain.
Transform crane operations—and your bottom line
One area where Industry 4.0 technologies can be put to much-needed use is in crane operations in material handling environments. Whether you're running gantry cranes, suspension cranes, bridge girder cranes, or rotary cranes, today's advanced solutions can help you improve and optimize performance and efficiency, streamline processes, lower operating costs, reduce equipment wear and tear, keep teams productive, and more.
By connecting all of your cranes and other machines and applications into a single smart system, you're able to increase business agility. Material handling organizations that fully embrace Industry 4.0 and put its technologies to use in their crane operations can develop new capabilities. They can also gather and analyze data from a range of sources to gain valuable insights into processes – which lead to more informed decision making and improved outcomes.
Cranes have been used in material handling for many decades. For many warehouses, factories, and mills, they are working essentially the same way they have since the beginning. Some organizations have updated their cranes to use digital technology, such as variable frequency drives and automation features. Today's cranes offer an array of advanced features, including:
Anti-sway control – Keep loads from swinging when crane speeds change during load handling. This helps reduce takt time and keeps operation smooth.
Shortest time start-up feature – Crane speed adapts automatically to changes in load mass. For instance, when a load is light, the crane will speed up.
Tension control – Torque is controlled automatically for smooth acceleration and deceleration, ensuring the material tension stays consistent.
Dedicated brake sequencing system – Shortens the time from startup to brake opening and improves response at low speed.
Falling load detection – Detects unexpected load dropping. When the commanded direction differs from the actual motor rotation direction, the falling detection signal is output.
Overload detection – Detects when a load is too heavy for the crane and will halt operation and alert the operator.
All of these features can certainly help improve operations – but another, more transformative step lies beyond that, which could be revolutionary for the organization.
One important benefit in using Industry 4.0 technologies in your crane operations is predictive maintenance. When cranes and other machinery are connected to back-office systems and AI applications, you get full visibility into each link in the value chain. As cranes begin to wear, smart systems can alert you to potential issues before they escalate and cause unexpected downtime or a safety incident.
How Mitsubishi Electric can help
When it comes to crane operations in material handling environments, Mitsubishi Electric is uniquely positioned to enable your adoption of Industry 4.0 technologies.
First of all, our FR-A800-CRN variable frequency drives (VFDs) are designed specifically for fast, smooth operation in crane and hoist applications. They offer all the latest crane-specific features and capabilities mentioned above: anti-sway control, shortest time start-up feature, tension control, dedicated brake sequencing system, falling load detection, and overload detection.
The VFDs also come with built-in vibration suppression control, load-based speed control, and multimode functionality, which means they can control a variety of motors. They have built-in programmable logic controllers (PLCs) for easy customization, and anti-corrosive PCBs ruggedized for harsh environments. Our VFDs meet the certification requirements often required by shipping companies and ports.
The value Mitsubishi Electric brings to Industry 4.0 for crane operations goes far beyond our specialized VFDs, however – and that's what differentiates us from other vendors.
Achieving true Industry 4.0 operations requires a range of components to connect your equipment and systems and get them communicating. We offer a full portfolio of these components, which connect your cranes and other machines to the cloud, to our CC-Link network solutions that connect it all together.
With Mitsubishi Electric, you get advanced predictive maintenance that can increase safety on-site and help you avoid downtime by addressing potential equipment issues before they escalate. You also get remote monitoring capabilities that allow you to view your crane operations from anywhere. If malfunctions occur, you can often diagnose and even repair some issues remotely.
Advance further in your digital transformation with all of the products and solutions you need from a single vendor. By embracing Industry 4.0 – connecting your equipment and applications into one single, communicative system – you are enabling a whole new level of agility, flexibility, productivity, and customer service.
Not only are you keeping your organization competitive and setting yourself up for success today, but you're also preparing for Industry 5.0, which is just beginning to emerge now. It's the next exciting step in the digital transformation journey, and it focuses on human interaction with that smart, connected system from Industry 4.0. Early adopters are already moving ahead. With Mitsubishi Electric, you'll be on track to join them.
Automation Solutions Ingredients
Learn more about how Mitsubishi Electric can help you integrate innovative solutions into crane operations or other material handling processes.
Work with Us and Succeed
We love our customers and the challenges they bring to us. We also like to let our customers shine by discussing how we worked together to solve their biggest challenges. If you have a challenge that needs to be solved and would like to be our next BIG success story, reach out to us and let's connect!