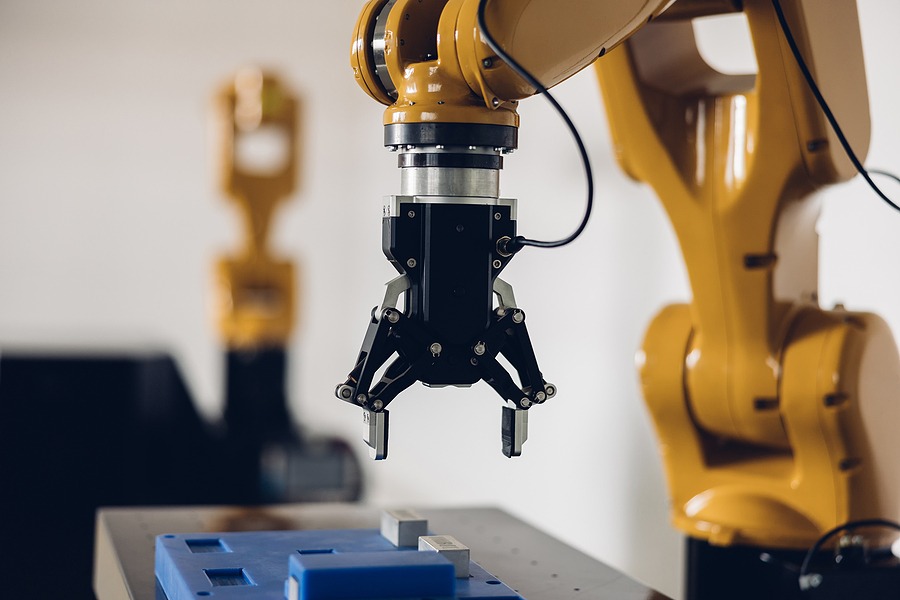 The EU approved a law that bans the sale of new gasoline and diesel cars by 2035. Vehicle manufacturers must switch over their companies' lines of cars and trucks to electric vehicles (EVs) by that point. The United Kingdom is moving even faster than that and requires all manufacturers to have switched to EVs by 2030. Even the U.S. has laws in place that are aiming for EVs to be the only option by 2030 after President Biden set that goal over the original goal of 2050.
Many auto manufacturers have already started focusing on moving to all EV product lines. Several have plans to have a full EV lineup within five years. BMW, Ford GM, Hyundai, Jag/Land Rover, Kia, Mazda, Mercedes-Benz, Mitsubishi, Nissan, Stillantis, Subaru, Tesla, Toyota, VW, and Volvo will all have manufacturing lines for their EVs and many have also invested in new lithium-ion battery plants to ensure there are enough batteries for the vehicles that will be hitting the roads.
Explore the Role of Robotics in EV and Battery Manufacturing
EVs use lithium-ion batteries, the same type of batteries in smartphones but much bigger. The size of the battery determines your range. A 35kWH battery can get up to 130 miles of range on a charge, but temperatures can impact this. You might end up with less range on a very cold day or a hot one when AC is necessary. EV batteries range from the 30s up to 100kWh.
Solid-state batteries are a newer technology where a solid electrolyte is used within the battery instead of a liquid or gel. These batteries are smaller and don't have the same cooling requirements as a lithium-ion battery. 
With production ramping up on these batteries and EV batteries that take thousands of individual lithium-ion cells and put them together, manufacturing has to be precise and fast. Any error in the production of EV batteries could be costly, especially if it led to problems once a consumer purchases a car.
That's where robotics comes in. They're programmed to do the same task, in the same way, thousands of times a day. They won't get tired or need a break. Industrial robotics never need to take a vacation or sick day. Production of lithium-ion batteries keeps going until you tell it to stop.
Industrial robotics also helps with the production of EVs. A car has to be built from the ground up. That means cutting the metal or fiberglass for the body, assembling the different components, spray painting the body, connecting the body and frame, and adding all of the moving parts like the axles, wheels, tires, rims, steering wheels, controls, etc. 
If this isn't done with precision, you can end up with a car that leaks rainwater through an improperly fitted windshield or door, or, worse, has a safety issue occur at high speeds causing tragic accidents. Your automotive plant cannot let mistakes and errors lead to costly losses.
Robotics Benefit Manufacturing and Assembly in Several Ways
What can robotic equipment do that benefits the production of EVs and lithium-ion batteries? There are four main benefits.
Your Workers Report Fewer Injuries
How many workplace injuries have your workers endured? When you incorporate robotics, they heighten safety. You don't have a worker drying to lift weights that are too heavy, which causes strained muscles and a requirement for short-term disability.
You won't have a worker accidentally driving a forklift into a shelf, creating a ripple effect as one rack falls over and sends items flying into the workplace damaging other workers and equipment. You don't have employees getting injured or burned while handling equipment necessary for cutting or welding items together.
While industrial robotics cannot reduce all injuries, they can drastically decrease numbers. You might still have an employee who slips on spilled water on the bathroom floor or ice outside in the parking lot. But, it can help reduce a lot of the work-related injuries your plant has been seeing.
Another benefit is that a robot can work in a hazardous environment without needing special safety gear or putting its health at risk. Robots can spray paint the body of an EV and not end up sick from the paint fumes.
Robots Work Around-the-Clock
Factory robots do not require time off. They work 24/7 without any need for a vacation, sick day, lunch break, or bathroom break. They'll run every day, even on weekends, with little need for your full crew to be onsite. Because they're working non-stop, your production rates increase.
Robotic equipment can be set to run all weekend on a holiday weekend. Even better, it can save money as your robots and automated lines don't need the lights on or heat to run correctly. You save money on heating, cooling, and electricity.
Robots Improve Accuracy
Accuracy is everything. Robots are programmed to be precise and will not vary from one run to the next unless they're programmed to change to a different measurement or setting. The AI used in robotics will constantly calculate measurements and if machine vibrations have moved a laser even a fraction of a millimeter, the machine autocorrects to remain the same precision.
Robots Can Do Some Preventative Maintenance on Their Own
Industrial robotics can analyze its system to make sure everything is running smoothly and that nothing is changing. The machines can recalibrate themselves and monitor oil levels. They can check and detect where leaks may be occurring. You'll get notifications sooner and be able to bring in your maintenance team before a machine breaks and has to go offline for days or weeks while awaiting a new part.
Do Not Overlook the Challenges of Robotics
Your workers are probably scared that industrial robots are going to take their jobs and leave them unemployed. It's important to address this. Industrial robots do the work, but they still need human involvement. The workers you have could be trained to program the robots. This is an essential job and a good way to keep your dedicated workers with your company. 
Your employees do need to be willing to learn something new, and the more experience they have, the easier it is for them to quickly calculate what the robots need to do and the best order to do those steps in. They're also going to have the troubleshooting skills needed to establish the perfection robotics can achieve.
While robotics is essential for boosting production rates and increasing accuracy and quality, there are some downsides. Robotic equipment is an expensive endeavor. The global market for robotics companies is expected to reach $31 billion in the next five years. 
Per Statista, the average cost of an industrial robot in 2017 was around $27,000. Prices are dropping though and government grants and low-interest business loan products can make the switch to robotics more affordable. Plus, industrial robots do not need the lights on to operate, which slashes your factory's electricity bills.
If you're avoiding upgrading your equipment due to financial concerns, reach out to Mitsubishi Electrics. Talk to our robotics specialists about your budget and let us help you see if there's a way to add robotics and automation in ways that are both affordable and help improve your plant's production rates while lowering the amount of scrap and injuries that take place. 
We can help you navigate grants and other financial assistance programs that can make upgrading to robotics more affordable than you would imagine. Call or email Mitsubishi Electrics to get started with your plant's switch to robotics.
Work with Us and Succeed
We love our customers and the challenges they bring to us. We also like to let our customers shine by discussing how we worked together to solve their biggest challenges. If you have a challenge that needs to be solved and would like to be our next BIG success story, reach out to us and let's connect!