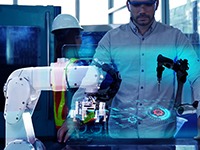 A Systematic Evolution
The World Economic Forum says, "The Fourth Industrial Revolution is expected to create up to $3.7 trillion in value by 2025." The Industrial Internet of Things (IIoT) is at the heart of Industry 4.0. As IndustryWeek indicated, "The Industrial Internet of Things (IIoT) is often portrayed as a replacement of legacy technology. However, its real potential lies not in a radical rip-and-replace overhaul strategy, but through incremental smart upgrades and improvements."
While many manufacturers have been integrating new IoT technologies for some time now, they have been doing so in a gradual way. They are adding smart technologies like sensors, artificial intelligence (AI) and machine learning to:
Collect, interpret and analyze data
Control costs and
Build competitive advantage
The Infosys Knowledge Institute, a thought leader in critical business and technology trends says, "Technology executives need to maintain continuity with legacy systems that have evolved over the decades and are still functional. A staged approach with meaningful milestones and metrics, not necessarily in strict sequence, will be preferable to a Big Bang." This makes perfect sense. Not many companies can completely replace existing systems. Instead, they are following a path of smart and systematic evolution based on their specific needs.
Robotics & Automation News believes, as we do, that as factory automation machines are repaired or improved, they should be fitted with new technology that offers backward compatibility to the original design. "To develop future-proof automation systems, businesses should design controllable, backward compatible and scalable systems that can be expanded."
Backward compatibility is essential
Clearly, backward compatibility is essential for an evolutionary journey to Industry 4.0. Because this staged implementation will result in factories that are composed of both old and new equipment. If this equipment is both backward- and forward-compatible, companies will have a winning digital strategy. Because they have:
MORE OPTIONS
They can repair old products instead of having to replace them and can use new technologies to monitor old equipment
EASIER UPGRADES
They can upgrade different parts of machines over time instead of having to upgrade the entire machine at the same time.
CODE RETENTION
They can add new products with minimal disruption and run the same code with little or no programming.
FASTER REPAIRS
If one part fails, they can replace one part (e.g. the motor) without having to upgrade another part (e.g. the servo)
INCREMENTAL MIGRATION
They can migrate to Industry 4.0 at their own pace, in a step-by-step fashion with a high-degree of confidence that operations will remain stable over time.
LONGER LIFE
They can dramatically extend the life of machines to 20 and even 30 years. As new technologies become available, they can implement them to improve operations and competitive posture.
PEACE OF MIND
They can install solutions today that meet their current needs, while laying a foundation for future digital migration.
Transitioning to IIoT is a marathon, not a sprint. However, when it comes to Industry 4.0, whether you're a rabbit (rapid revolutionary transformation) or a turtle (slow and steady evolution), backward and forward compatibility is essential for longer equipment life and lower total cost of ownership (TCO).
The legacy of legacy: Live long and prosper.
Backward and forward compatibility can dramatically increase the lifetime of machines and maximize ROI. Of course, everyone says they have it. Most only provide it for one previous generation hardware and software. However, there are some automation providers that continue to support products up to 30 years after launch.
Backward compatibility is a design that is compatible with previous versions of itself. Forward compatibility is a design that is compatible with future versions of itself. Backward and forward compatibility protects your investments in:
Hardware
Software
Engineering
Design time
Hardware or software that can successfully use interfaces and data from earlier versions eliminates the need to start over when you upgrade to a newer product. Companies should be hesitant to buy an automation product that makes their previous work obsolete or requires cumbersome and time-consuming migration.
When your automation products are backward- and forward-compatible, you can add new functionality and improve performance with minimal disruption and without having to relearn everything. Plus, when you upgrade, the machine behaves in the same way.
The function blocks behave the same
The code can be reused
The data can be pulled in the same way
Migration by design.
Why doesn't every automation provider enable backward and forward compatibility for the full life of their products? Many don't want to cannibalize products, so they avoid overlapping generations of products. This puts a cap on the useful life of machines. It's an approach that benefits the automation provider not the end user. Because it prohibits the use of legacy automation products with new automation products. This is crucial for long life and lower TCO.
How do you know if products are truly backward- and forward-compatible? Look for an automation provider who makes backward and forward compatibility a fundamental design principle. This is a strong indication that they believe in protecting your investment.
When backward and forward compatibility is a company philosophy, the automation provider should:
Commit to backward and forward compatibility beyond more than one product generation
Ensure that there is always an upgrade path from previous generation products into the latest generation products — with only minor alterations required
Certify compatibility through stringent testing
There's a lot of engineering time that goes into making products backward and forward compatible. If servos, VFDs, PLCs or HMIs are only compatible with one generation of the programming software, it will be challenging to keep equipment working together properly. Backward and forward compatibility is more easily accomplished if the previous versions have been designed to be forward compatible or extensible. In other words, backward and forward compatibility has to be intentional.
Revolutionary new capabilities. Evolutionary approach.
When a leading automotive manufacturer was building a new and highly-automated paint shop, they went with Mitsubishi Electric instead of Rockwell because of backward compatibility. The previous paint shop was still in use and would continue to be for the foreseeable future.
They wanted an evolutionary, integrated system that built on previous technology instead of a mix of third-party software. This approach has allowed the automotive manufacturer to continue to use legacy systems as they introduced advanced, state-of-the-art smart factory capabilities
New and existing technology in both shops co-exist in the same system, even though some of the technology is over 20 years old. This backward compatibility also meant the next-generation software could be upgraded in minutes instead of months. These and other benefits contribute to lower total cost of ownership over the lifetime of the system through faster migration, easier maintenance, streamlined inventory and reduced training time.
What will be the legacy of your legacy equipment?
If you're on an evolutionary path to Industry 4.0, if you want to extend machine life, maximize ROI and lower TCO, look for an automation partner who's committed to backward and forward compatibility.
Work with Us and Succeed
We love our customers and the challenges they bring to us. We also like to let our customers shine by discussing how we worked together to solve their biggest challenges. If you have a challenge that needs to be solved and would like to be our next BIG success story, reach out to us and let's connect!