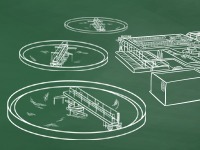 Upcoming Energy Compliance Changes:
Are You Ready for 2023?
One of the most well-known benefits of VFDs is how they can help your organization save energy. For any company that operates pumps or fans in industries such as wastewater processing or commercial HVAC, energy efficiency is more critical than it's ever been.
In 2023, aggressive regulations from the United States Department of Energy (DOE) will become mandatory and have a significant effect on water treatment facilities. The regulations aim to reduce more carbon emissions and save more energy than any previous DOE standard.
What the mandate means for these facilities is that they'll need to use VFDs more prevalently throughout their operations. Many organizations use VFDs for their largest pump motors that run at hundreds of horsepower, but as of 2023, even the small 5 hp motors that help pump algae or bacteria, for instance, will need VFD control.
Because VFDs have an up-front cost like any other hardware or equipment, installing them throughout your entire wastewater operation might seem like a financial burden.
But here's the good news: you'll quickly recoup the capital cost by significantly reducing your energy cost — and the Mitsubishi Electric Energy Savings Tool can show you exactly how much you'll save and how fast.
The free software, available on any networked browser, serves as an energy cost calculator. First, you enter the information about your current system setup and operational costs. Next, you enter information about the various VFDs you would need across your operations, and include their purchase and installation costs. The tool crunches all the numbers and then tells you how much the project will cost and how soon you'll recoup that cost through lower energy bills. It can also show you how much you'll save on energy over time.
Those energy savings can be significant. They'll not only quickly offset the up-front costs of your VFDs, they'll also continue to help you save money in the long term. It's simple physics that when it comes to centrifugal pumps and fans, reducing motor speed by 25% lowers energy use by almost 60%. Reduce motor speed by 50% and you're looking at almost 90% lower energy use. So even if you run your motors at just two to three percent lower speed, you could still see big energy savings.¹
And the Energy Savings Tool can give you a good idea of what you'll save.
Eliminate Water Hammering to Preserve Pipes
Many homeowners know it too well — that knocking sound coming from the pipes in the walls. It's called water hammering, and while it can cause leaks and do extensive damage to residential pipes over time, it can wreak even more serious and expensive havoc in a large-scale wastewater operation.
Water hammering is caused by pressure surges in pipes, which usually occur with sudden flow changes – when pumps start or stop or valves are closed, for instance. When pressure is too high, it can cause a pipe to burst. When too low, pipes can collapse. The vibrations caused by the flow changes can create areas of partial vacuum, wear away inner pipe linings, and even cause long-term damage to fittings and valves.
All of the issues caused by water hammering can be expensive to fix and cause undue downtime within your entire operation. And simply repairing leaks and burst pipes can become an endless money sink if organizations don't address what's causing the water hammering in the first place.
Some organizations mitigate the issue by purchasing and installing hardware solutions, such as dedicated soft starters. What many wastewater organizations might not know is that they already have the equipment to eliminate the problems of water hammering, built right into their existing VFDs.
Mitsubishi Electric VFDs, for example, can be configured to address water hammering. Once an organization has determined parameters and programmed them into the drive, the drive can monitor pipe conditions and autonomously identify potential issues as pressure changes occur. The VFD will slowly increase or decrease pump motor speeds as needed to maintain consistent pressure within pipes. Using a VFD to control pump motors also helps reduce overall vibration in pipes, which further reduces the potential of water hammering.
With your VFDs monitoring pipe pressures and taking measures on the fly to mitigate water hammering, you free up staff from the time and effort of having to check pipes manually on a regular basis to make sure they're free of damage. You'll also significantly reduce the likelihood of pipe leaks or breakage, thereby avoiding the costs and stress of unexpected downtime.
Custom VFD Panels and an Industry-Leading Warranty
While day-to-day operations might be somewhat similar from one wastewater organization to the next, there are many differences in the types and volume of each organization's VFD panels.
That's why Mitsubishi Electric offers a full range of off-the-shelf and custom panels to meet even the most unique scope or requirements. Whether you need a single enclosure for one VFD or a full spectrum of control equipment with multiple devices, harmonic mitigation techniques, and specific DC link chokes or line reactors, we can create it for you.
We build our panels to last, with ratings for indoor or outdoor use all the way to extreme protection against moisture and dust.
What sets Mitsubishi Electric apart from the other guys is our quick turnarounds on large orders. We're fast because we have three manufacturing locations and can produce hundreds of panels every month.
We can help you save time and money, plus the effort of managing multiple suppliers to get the panels you need. We also relieve your internal staff from the burden of designing and assembling panels, so they can focus on improving operations and keeping your organization competitive.
All of our panels are backed by a two-year warranty, but that warranty extends to a full five years at no extra charge if your system is installed by a member of our Drive Startup Partner Program (DSPP). If you are a reseller yourself, all it takes is a two-day training program to become certified for the DSPP, and your customers become eligible for one of the best warranties in the industry.
Find Greater Value in Your VFDs
VFDs are becoming more essential to successful water treatment operations, thanks to upcoming regulations and more technologically advanced features. There's never been a better time to see what Mitsubishi Electric VFDs can do for your business – and your bottom line.
¹https://www.equansmep.com/news/5-reasons-to-install-energy-saving-vfds/
Automation Solutions Ingredients
Learn more about Mitsubishi Electric VFDs and the benefits they can bring to professionals in water and wastewater treatment.
Work with Us and Succeed
We love our customers and the challenges they bring to us. We also like to let our customers shine by discussing how we worked together to solve their biggest challenges. If you have a challenge that needs to be solved and would like to be our next BIG success story, reach out to us and let's connect!