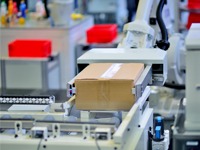 The just-in-time cost to businesses and the supply chain
A couple of years ago, a strategy called just-in-time inventory management, or JIT, was popular among the world's leading manufacturers. It was an approach that required close coordination with suppliers to ensure that product components arrived in time for production to begin, but no earlier. The objective was to maintain the bare minimum of inventory needed to meet demand, which could ultimately help organizations cut costs and increase their agile response to ever-changing customer needs and market fluctuations.
Then came the COVID pandemic. In 2020, a stunning 82 percent of mid-market manufacturers in a recent survey by BDO had to significantly reduce production or shut it down completely at some point. This meant lost revenue, not only temporarily from orders they couldn't fulfill during shutdown, but also permanently from the loss of customers who found other suppliers while they were unavailable.
While most manufacturers have been able to restart production as COVID mandates eased, BDO found that 83 percent of the manufacturers that had to shut down temporarily or slow down production say their business will take at least a year to recover.
To make matters worse, they are now facing massive disruptions to the supply chain. These issues have "led to chaos for the manufacturers and distributors of goods who cannot produce or supply as much as they did pre-pandemic for a variety of reasons, including worker shortages and a lack of key components and raw materials," said a recent CNBC article. "Unfortunately, experts like Tim Uy of Moody's Analytics say that supply chain problems 'will get worse before they get better.'"
Reuters agrees. One article reported that purchasing managers say manufacturing component delivery times are as bad as they've ever been, with October 2021 being the worst on record so far.
The breakdown of the global supply chain is especially bad for companies operating under a JIT mindset. The strategy can result in serious bottlenecks.
"When the production of $50,000 cars are held up by production of a 50 cent chip, that's the idea of just-in-time manufacturing being carried too far," said Randeep Rathindran, Vice President of Research of Gartner Finance, in a Supply Chain Dive article.
The big takeaway for manufacturers these days is that sudden short-term events can have long-term effects. Having agility to minimize disruption and respond quickly to it is critical.
Balance Risk and Resilience with Technology
Experts in manufacturing have debated the trade-offs of risk and resilience for more than a decade, according to a recent article in The Guardian. The discussion is about the risk of going too lean in inventory management versus the resilience gained by storing "safety stock" – also sometimes called just-in-case inventory management – to enable continuing production despite supply chain shortages.
The article elaborated: "Low just-in-time inventories increase the risks of shortages when a crisis bites. Resilience, however, means bigger stockpiles, more workers, multiple suppliers and higher costs. This creates a dilemma."
The dilemma manufacturers must address is whether to embrace a JIT inventory approach or increase inventory to have a buffer of stock in case the supply chain is disrupted. While proponents for and against JIT inventory management can each find plenty of online support for their position, there is a growing trend underway today to ease up on the ultra-lean JIT approach and find a balance that provides some flexibility for unexpected events.
In Gartner's "Future of Supply Chain: Crisis Shapes the Profession" report, as cited in a Supply Chain Dive article, 54 percent of supply chain professionals reported having plans to increase inventory within the next one to two years (43 percent within the next year; 11 percent within two years).
The BDO survey also commented on the risk of a pure JIT strategy, offering this recommendation:
"Panic buying and lockdowns during the start of the pandemic led to supply chain disruptions and shortages for some goods. To prevent future interruptions in case of a COVID-19 resurgence or other unforeseen disruption, manufacturers should re-evaluate their just-in-time inventory strategies and consider developing alternative sources of supplies or stockpiles of critical materials or products."
No one is saying that JIT is obsolete. However, many experts are making recommendations similar to BDO, with a view to helping companies find the balance between risk and resilience.
Technology is an extremely important part of that balance when it comes to inventory management. BDO found that the main priority for manufacturing CFOs this year and beyond is investing in technology or infrastructure to adapt to the post-pandemic world. More than half of the CFOs surveyed are investing in supply chain technology, specifically, to "introduce new efficiencies, increase end-to-end visibility, and improve flexibility and responsiveness."
With the right technology tools, such as automation technology and robotics, organizations can gather a vast amount of data. This data can help companies identify the bottlenecks that are holding up their operations and gain insight into where issues occur and how to address them. By working more efficiently and increasing throughput, organizations can gather a vast amount of data and increase production.
How Mitsubishi Electric can help
At Mitsubishi Electric, we provide technology solutions designed to deliver data and insights to manufacturers to help them improve operations.
ICONICS Suite
This software gives you an in-depth view into operations with real-time data collection, analytics, and more.
Robots
Whether you are moving bins or raw materials for parts transfer or tasked with finished goods packing, palletizing or picking for shipments, Mitsubishi Electric has a range of articulated arm robots that can accommodate payload and response characteristics to suit any application need. This robotic material handling solution offers environmentally robust ratings and a range of offerings for easy selection.
VFDs
Variable frequency drives give you control over a range of machinery and provide granular data about operations and potential issues.
PLCs
Programmable logic controllers deliver high performance for your unique automation needs.
Maisart
Our proprietary compact AI technology combines deep learning, big data analytics, and knowledge processing to make machines smarter.
Every manufacturer should stay prepared for the unexpected. With these tools, manufacturers can gather the vital data from their operations and machinery to pinpoint bottlenecks that are keeping them from getting products to their customers. By identifying the slowdowns in their own facilities, organizations then have the ability to address the issues through further automation or additional technology solutions that increase efficiencies.
In this way, Mitsubishi Electric can serve as a valuable resource to manufacturers as they find the right balance between just-in-time and just-in-case inventory strategies – the ideal stance for their unique needs, that minimizes risk and increases resiliency against future unexpected events.
Automation Solutions Ingredients
Learn more about how Mitsubishi Electric can help you integrate innovative solutions into material handling processes to help you make informed business decisions.
Work with Us and Succeed
We love our customers and the challenges they bring to us. We also like to let our customers shine by discussing how we worked together to solve their biggest challenges. If you have a challenge that needs to be solved and would like to be our next BIG success story, reach out to us and let's connect!